Press
Cranston Named a GQ Man of the Year, EW Calls Breaking Bad 'Must-See'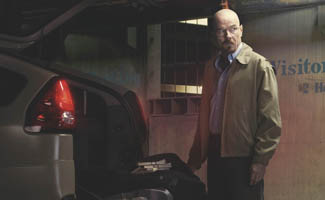 This week Bryan Cranston is named a 2010 GQ Man of the Year, while Entertainment Weekly talks up Breaking Bad, lauding Cranston's and Aaron Paul's rich portrayals.
• GQ has honored Bryan Cranston as one of its 2010 Men of the Year, specifically the Anti-Hero of the Year. Broadway World has photos of Cranston arriving at a party celebrating the occasion. While there, Cranston talked with USA Today about going on the "Julia Roberts diet" to prep for playing her husband in the movie Larry Crowne.
• Entertainment Weekly cites Breaking Bad as a "must-see": "A show about a chemistry teacher who hooks up with a petty thug to make meth: these are our heroes? Yes, when they're richly portrayed by Bryan Cranston and Aaron Paul." (no link)
• Dallas's Front Burner blog talks about discovering Breaking Bad: "I'm still in season No. 1, and I can't get my mind off meth. Highly recommended. The show, not meth."
• TV Squad thinks this week's episode of Modern Family ("Dash, Flash, Crash") had shades of the Cousins.
• Rabbit Hole, starring Nicole Kidman and Aaron Eckhart and featuring Giancarlo Esposito, will hit theaters on December 17, according to News Blaze.
• In reviewing the Roger Corman-produced Dead Space, the Criterion Cast says it's "worth seeing for a young Bryan Cranston, now a three-time Emmy winner."
• Bryan Cranston attended a benefit for Oceana and told the Mother Nature Network, "I'm building a greenhouse on the ocean in Ventura, so the cleanliness and the health of the ocean means a lot to me."
Read More