Interviews
Q&A – Christopher Cousins (Ted Beneke)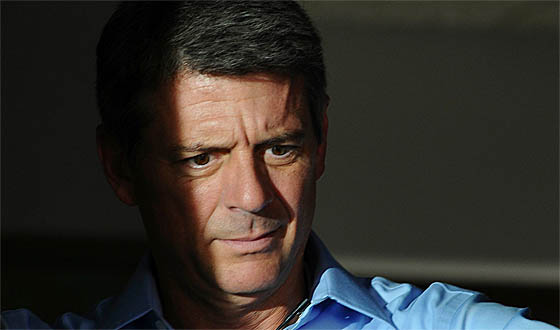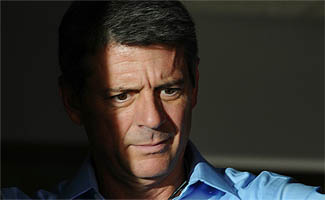 From Nov. 7 through Dec. 5, AMC is airing select episodes of Breaking Bad Sundays at Midnight | 11C following new episodes of The Walking Dead. As part of the Breaking Bad encore experience, AMCtv.com will be posting interviews with the show's talented supporting cast. This week, Christopher Cousins talks about Ted's Season 3 confrontation with Walt, describes the most inappropriate kiss of his life and imagines what Ted would look like if he were a painting.
Q: How did it feel to finally get a scene with Bryan Cranston in Season 3?
A: I wanted to have a real face-to-face thing happen, but it was perfect to have Ted hiding in the office. Bryan and I spent the day together and we had a great time.
Q: Ted and Skyler first kiss in the office copy room. What's the most inappropriate place you've ever kissed someone?
A: Oh my Lord. Well, let's see… I kissed a woman who was getting married at her wedding. That's pretty inappropriate. I was younger then, and we were all kinds of crazy. Her marriage lasted about three months or something. That might have been the first clue: She's kissing me in her wedding dress in the back.
Q: Do you have a heated bathroom floor in your house?
A: I do not, and the irony is that at this very moment I am plastering up a part of my children's bathroom. Their faucet broke and one job led to another and I ended up remodeling their whole bathroom. Trust me. I pulled up the floor, I looked underneath the floor and there is no heat underneath this floor.
Q: Is there a luxury item in your house that you can't live without?
A: I basically took my family's storage space for my own use as an artist. It's a great luxury to have my painting studio in my home. I can walk fifteen feet to work. I love that. I can take lunch and literally sit with my three-and-a-half-year-old boy, or he can come in, which can be a little distracting but other times it's great and inspiring. It's all good.
Q: You act, you paint, you renovate bathrooms. Is there anything you can't do?
A: Oh I love that question. I did do construction as a kid. And we built a gallery downtown. We were all artists and built it by hand so I do know how to do basic construction stuff. I am pretty proud of my kid's bathroom.
Q: Is it true that you also once worked as horse breaker?
A: When I grew up I had a couple horses and I was a good rider. When I started college I went out to live in Colorado and worked on this ranch. He hired me and paid me more than I should have been paid, which was great. He had all these horses that ran off so I had to go round them up and a lot of them hadn't even been ridden.
Q: That doesn't sound very Ted-like?
A: Ted might have been pretty daring in his youth. All it takes is a few compromises and before you know it you're in a box. I feel like maybe the best years of his life were in high school or college.
Q: Based on Season 3 Episode 9, it looks like Skyler might be giving Ted the boot. What advice would you give him to win her back?
A: I think Ted is three steps behind in everything. In that scene when she says [in Episode 2], "What are you going to tell your kids?" and he's saying, "I'm just trying to get through the day," I think that's so him. He's bound to fail with her it seems, like he's bound to fail with his business — bound to lose his heated floor.
Q: When you were in New Mexico for Breaking Bad were you able to take in the Albuquerque art scene?
A: I did go to some places. A lot of my work can be seen as evocative of landscape, and I think there is something similar to what you could feel about the desert in my work. It's amazing in the southwest how much art is going on. Part of my fantasy when I get a little older is to find a home for half the price and work in the southwest. Man, sit on a ranch somewhere and paint. But I'm not sure my wife and kids would agree.
Q: If Ted was a painting what would it look like?
A: He's a Hopper painting. One of those guys alone in a room looking out the window. Looking out and wondering: How do I get out there? What's out there? Why am I in here?
Click here to read an interview with the actress who plays Ted's illicit paramour, Anna Gunn (Skyler)
Read More