Uncategorized
Q&A – Carmen Serano (Carmen)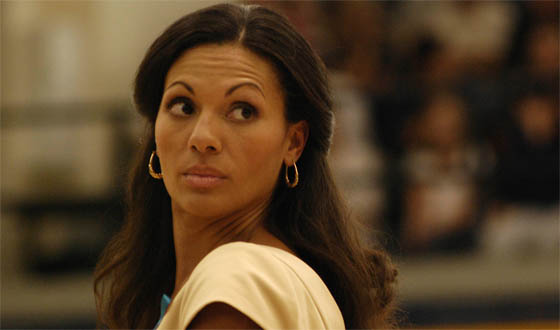 From Nov. 7 through Dec. 5, AMC is airing select episodes of Breaking Bad Sundays at Midnight | 11C following new episodes of The Walking Dead. As part of the Breaking Bad encore experience, AMCtv.com will be posting interviews with the show's talented supporting cast. This week, Carmen Serano shares her feelings on being the "Hot Latina Principal" and dishes on the alternate ending to Walt's Season 3 sexual advances.
Q: Is it just coincidence that you and your character have the same name?
A: There was a character originally in the Pilot — I believe her name was Margaret — and they wrote her out. They didn't find her in LA so they came here and they were looking at me, I guess, for her, and they decided to write me into the Pilot and call me Carmen. Isn't that great? They just kind of introduced me. It was funny. They said, "How about we do a couple takes where you are checking [Bryan Cranston] out as he walks away?" I did and everybody got creeped out by it. [Laughs] And Bryan kept saying, "She wouldn't be interested in me. She wouldn't be interested in me." So I ended up just being a friend.
Q: Does it cause any confusion, being Carmen on and off the set?
A: Yeah. It's one of those things when you're working, if somebody calls you your character's name, they say, "I'm sorry. Your name is?" I'm like, "No. It's Carmen." I look like a Carmen it seems. I did a guest starring role on In Plain Sight and I was Carmen.
Q: What's been the most fun part of working on Breaking Bad?
A: Working with Bryan Cranston. There are a lot of fun outtakes.
Q: Any that occurred while shooting the scene where Walt tries to kiss you?
A: Well, one of the takes we just went for it. [Laughs] It was hilarious. I said, "I'm really kind of getting nervous that once you make this pass at me and I kick you out of the school that I'm not going to be coming back for a while. So, why don't I just let you do it? And we can start a little something." [Laughs] And he's like, "Right on." We did a take and we did another and he went in for the kiss and I let him. We kind of rolled around the couch and did some grabbing and we could just hear everybody bursting into laughter. My husband was out watching the monitors, too. He thought it was hilarious.
Q: Your husband is an actor, too. Has he been on Breaking Bad?
A: He hasn't. It's probably one of the only shows in New Mexico he hasn't been on. We moved to New Mexico from LA because he was on a series called Wildfire. It went for four seasons. So, that's how we ended up here. When we got here I didn't know what I was going to do and then things just opened up. It's been really great for me.
Q: Did you give Bryan Cranston advice about where to go while in town?
A: [Laughs] I didn't. I'm kind of a homebody type and I also have my own business so I work a lot. I don't go out much. I'm kind of boring.
Q: What do you think it takes to be a good a high school principal?
A: It's funny. My sister is in administration and she's also an English teacher, so I talk to her a lot about this stuff. I think it really takes wanting the best for these kids, wanting and trying your hardest to give them every opportunity that's available, and making sure that your team is on the same page.
Q: When in your life do you get to be the boss?
A: At home, mom is the boss. I have kids too. And the business I have is a little makeup studio and I manufacture a skincare line. It's kind of hard for me to deal with employees so I have a manager that does that because I'm too nice. I always look for the best in everyone, almost like Carmen on the show.
Q: Since Carmen didn't return Walt's affections (at least, in the take they used), do you think you'll be back next season?
A: You find out a couple weeks before and you just go with it. Last season, my family and I planned a trip to Mexico, so the first episode I was super tanned because I had to fly back from Mexico. I hope the fans cross their fingers for me. What did they call me? The Hot Latina Principal? I love that I'm a part of a show that has a fan base like that.
Click here to read an interview with Carmen Serano's attempted on-screen paramour, Bryan Cranston (Walter White).
Read More