What You're Saying About Potential Guest Stars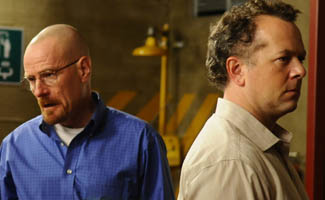 Those leaving comments have been contemplating the names of actors who should join Breaking Bad's high-caliber cast.
• "Quentin Tarantino — do a scene as a convenience store-cashier….Willem Dafoe as a counselor for Jesse to guide him along through his relapse and recovery to get back to rehab….Lindsay Lohan as a temporary girlfriend for Skinny Pete, she will snort some jolly rancher sized meth and go to rehab-never to be heard from again." — respect_the_chemistry
• "I would pick Benicio del Toro to play a bad guy from the cartel and Miguel Ferrer to play a corrupt DEA agent." — Tony Almeida
• "William Fichtner was excellent as Alex Mahone on Prison Break. It would be cool to see him in any kind of role on Breaking Bad." — rockmama
• "I'd like to see Norm MacDonald or Harland Williams as a junkie….Another great choice would be Gael Garcia Bernal; he could be a DEA agent working in Internal Affairs or something." — cowman130
• "Hopefully at some point Walt's going to need a mistress. Salma Hayek could fill this slot perfectly for me." — Catnip
• "I'm kinda thinking the lines of the Johnny Knoxville/Irving Zisman combo. While Johnny does play a hilarious comedic character — I feel he has some untapped potential in a dramatic role. IMO he possess a certain 'deepness' about him. As Irving he could either play Walt's Father. (Or, Grandfather in a flashback scene?)" — diksee
Log on to the Talk forum to join in any of these conversations or to start a Breaking Bad topic of your own.
Read More