What You're Saying About Breaking Bad's Most Horrifying Moments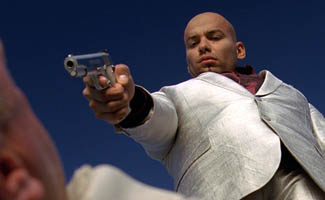 Breaking Bad has enough nail-biting, stomach-churning moments to rattle even the most desensitized television viewer — as evidenced by the commenters this week, who were all to happy to revisit their favorites.
• "I was absolutely disgusted when Walt started begging and offered up Pinkman to Mike and Victor. Then, the show was redeemed as it turned out to be a Heisenberg move. I would have hated Walt so much if he had gone through with that." — Johnny Appleseed
• "From worst to 'best': 1) Tortuga's head on the tortoise. 2) Spooge's head getting smashed. 3) Hank pinning one twin's legs against, then shooting the other twin with the bullet meant for him. They're all horrible in different ways and for different reasons." — DRKellogg
• "Partially melted body and cast iron parts breaking through a Spanish colonial suburban floor." — JPB2
• "I'm too intrigued by BB to look away.The only time i can think of was the Season Finale, when the gun fired and the screen faded to black, all I could think was 'Dammit, now a long wait 'til we meet again!'" — respect_the_chemistry
Log onto the Talk forum to join in any of these conversations or start a Breaking Bad topic of your own.
Read More