Press
Cinema Blend Calls Aaron Paul Up-and-coming Actor; New Mexico a Top Location on Variety List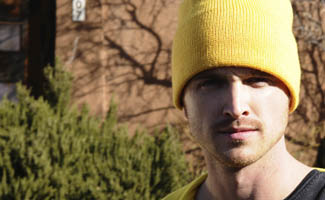 Cinema Blend considers Aaron Paul a future A-lister, and a Variety poll has Breaking Bad's New Mexico location as one of the best on the continent, while the Washington Informer is impressed by Giancarlo Esposito's body of work, especially his turn as Gus.
• Aaron Paul ("a brilliant actor") appears on Cinema Blend's list of twenty up-and-coming actors "who will one day lead big-budget event films and Oscar-worthy dramas."
• New Mexico, a "filmmaking magnet," is No. 5 on a list of best North American locations, with recent TV productions including Breaking Bad, Variety reports.
• The Washington Informer celebrates Giancarlo Esposito, calling the role of Gus one of his "most chilling performances, though a great deal of the drama comes from his silence."
• If the Saw franchise is revamped, actor Tobin Bell — who played Jigsaw in the films — tells Worst Previews, he'd like to see either Bryan Cranston or Thomas Jane as his replacement.
• LAist writes that Betsy Brandt will help narrate Mark Z. Danielewski's book The Fifty Year Sword in Los Angeles on Halloween night.
• Bryan Cranston and R.J. Mitte appeared at this week's Los Angeles premiere of The Walking Dead.
• The Writers Guild of America, West, cites the recent increase in basic cable series, including Breaking Bad, to call for better pay for basic-cable writers, according to Deadline Hollywood.
Read More