What You're Saying About Walt's Hiding in Plain Sight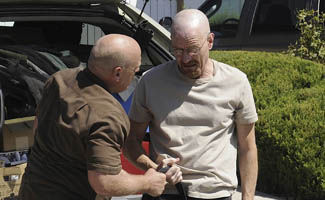 This week a new viewer wondered why, in Season 1, Hank doesn't suspect that Walt stole the lab equipment from the high school. Other commenters weighed in and in doing so demonstrated just how much Walt has changed over three seasons.
• "As a person, the Season 1 Walt was nearly imperceptible. Hank SHOULD have considered Walt a suspect, but given Walt's past, he didn't. To me, this was Walt's greatest advantage. He was hiding in plain sight and getting away with it." — DRKellogg

• "I think it's because Walt is just like Gus… they both keep up their appearances and are good at bending the truth — that's why no one ever suspects that they are both criminals." — respect_the_chemistry
• "I guess it's just easier to picture Walt as a suspect when I see him cooking up meth the whole season, but if I were in Hank's position I'm sure Walt would be the last person I'd suspect too." — akeman
Log onto the Talk forum to join in any of these conversations or start a Breaking Bad topic of your own.
Read More