What You're Saying About Breaking Bad's Emmy Wins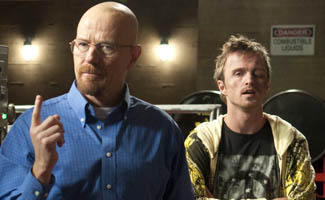 Emmy night was triumphant for Bryan Cranston and Aaron Paul, who took home the Best Actor and Best Supporting Actor satuettes, respectively. Commenters reveled in both victories, giving Cranston kudos for scoring a hat trick and praising Aaron Paul's long-awaited recognition.
• "I cried during Aaron Paul's Emmy-winning performance, and I cried again when he won his well-deserved award. What a great night! This will help get me through the months until next July." — MadisonAvenueWoman
• "Congratulations, gentlemen… now get cookin'!!!" — chili p
• "I am so happy for Aaron Paul and Bryan Cranston, and for everyone connected to this show. It's good to know that (aside from the ridiculous fact that Anna Gunn wasn't nominated), the Academy does recognize talent and depth when they see it." — Liz
• "It's almost absurd how happy I am that Aaron Paul got the win. Very deserved, overdue, and seriously, how adorable was that acceptance speech? More 'hellz-yeahs' go to Bryan Cranston's third takedown as well!" — Zane
Log onto the Talk forum to join in any of these conversations or start a Breaking Bad topic of your own.
Read More