Press
NY Times Calls Breaking Bad Cable's Best, Courier-Journal Calls it Cinematic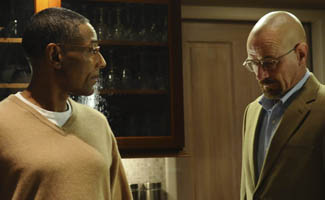 Breaking Bad is cited by the New York Times, the Courier-Journal and other publications for being one of cable's best, plus Bryan Cranston and Giancarlo Esposito are mentioned in casting news.
• The New York Times singles out Breaking Bad, explaining, "At the moment, most of the best cable series are about criminals or psychopaths, or both."
• The Courier-Journal quotes a TV Guide editor who praises Breaking Bad for being "a completely cinematic show, not just the look of it, but the complexity of it."
• The Salt Lake Tribune thinks Breaking Bad's Season 3 Episode 10 ("Fly") was a "daring, expertly written" episode" that you "would never see on ABC, CBS, Fox or NBC."
• Variety notes about Breaking Bad, "few series… are more adept at consistently keeping their audience off balance as to what happens next."
• The Los Angeles Times refers to Fox's Lone Star as "an opportunity to pull some cable viewers back that like shows like Weeds and Breaking Bad, shows that have a little bit of danger."
• The Playlist reports that Bryan Cranston is joining the cast of Steven Soderbergh's Contagion. /Film finds the news "Fantastic."
• Catch Giancarlo Esposito later this year in Rabbit Hole, starring Nicole Kidman.
• RJ Mitte speaks out against bulllying, noting, "I know from personal experience that the bullying of a disabled person can still be seen by some as acceptable or is given a silent pass."
Read More