Uncategorized
Q&A – Danny Trejo (Tortuga)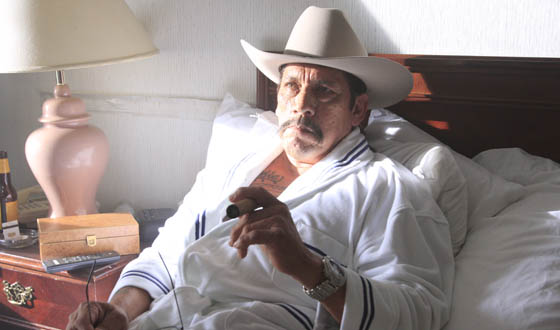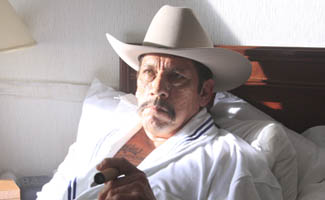 The actor who plays Tortuga on Breaking Bad and stars in the hit film Machete (in theaters now) describes his SkyMall shopping habits and how his life trajectory is the exact opposite of Walter White's.
Q: How did it feel to see your severed head on a tortoise?
A: It was kind of weird. It was done so well.
Q: Did you get to keep the head?
A: No. [Laughs] Put it on my mantle or something.
Q: Tortuga says, "There are two kinds of men in this world, those who drink and those who pour." Which one are you?
A: I don't drink and you better be gorgeous or pretty tough to ask me to pour. I go to a lot of schools and I tell people that if you have a problem drinking, it is just best not to. There are a lot of problem drinkers, especially in juvenile hall. So, I try to put them on a path of staying out of trouble.
Q: Your real-life story seems to be the opposite of Walt's. You started out in serious trouble and straightened your life out.
A: It's kind of like been there, done that, bought a t-shirt. In prison there are only two kinds of people: There is predator and prey and you have to kind of decide, which am I going to be? I decided I'll be a predator and then you have to be willing to do whatever it takes to stay on top, because if you're in a pile of s— I'd rather be on top than in the middle. So far I've had a pretty good career playing bad guys.
Q: Do you ever think, "When am I going to get to play the nice guy next door?"
A: Wait a minute. Wait a minute. I did Spy Kids. [Laughs] I was the uncle in Spy Kids.
Robert Rodriguez is doing Spy Kids IV now. I got a bigger role in it.
Q: Tortuga seems really into SkyMall. Have you ever purchased anything from the in-flight catalog?
A: No, but I love looking at the gadgets. If I see a good gadget, I'll build it. They've got great shoe racks and great closet stuff. I love tennis shoes. They had this one thing for putting up shoes so I built it.
Q: Why not just order it?
A: I don't know. It would feel like just waiting for a Christmas present or something. I seen it and I got the idea so I just built it myself. The funniest thing that ever happened to me, as far as like autographs — I got onto a plane one time and you know all those magazines like SkyWest magazine they have on the plane? My picture was in one. So I signed one for somebody and then I ended up just signing one for the whole plane. And it was funny because the stewardess asked me, "Mr. Trejo, do you want me to have people stop?" I was like, "No. I'm just sitting here anyway." She said, "OK. Would you sign this for me?"
Q: When Tortuga was in the hotel making a deal with the DEA, were you ad-libbing those lines?
A: A lot of them. And I have made a couple of deals with the district attorney: "Let's plead to a lesser charge buddy, given my background." So that was a lot of fun. You can't start saying the Gettysburg Address. You have to stay in the time and the story, but as far as changing words, a lot of times when you get a writer who was an English major and you're supposed to be playing a character like Tortuga, I wouldn't say, "apprehended," [Laughs] I say, "The guy got caught."
Q: Are you sometimes amazed that you managed to get out of that world? How did you navigate that?
A: I took drugs and alcohol out of my life and my life just started getting better, and the reality is some mornings I wake up and I'll be laughing my ass off cause I'm in South Africa. What the hell am I doing in Cape Town, South Africa? I'm doing a movie called Death Race 2 and it's like wow, I've come a long way.
Q: What was your favorite thing about Tortuga?
A: I loved his style of dress. [Laughs] Cowboy boots and boxer shorts. That was kinda cool.
Click here to watch a video interview with Danny Trejo for his new film Machete, in theaters now.
Read More