What You're Saying About Breaking Bad's Emmy Potential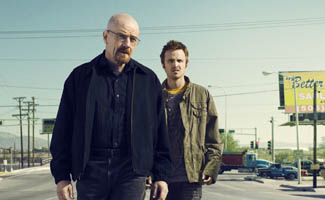 Looking forward to this weekend's 62nd annual Primetime Emmys, Breaking Bad fans discussed which Emmy awards they hope the AMC drama takes home.
-"I'm rather torn on whether I want a triple crown for Bryan or Best Drama for the show. I guess if cornered, as cool as three in a row would be I think I want that Best Drama Emmy more than anything." — Pamala
– "Since Aaron wasn't nominated for his work in Season One and did not win for Season Two, it does seem about time to send a little awards love his way. And fortunately, since Bryan and Aaron are nominated in separate categories, we don't have to 'Rob Peter…er, Cranston…to pay Paul!'" — rockmama
– "Even if all the nominations don't get awards, it doesn't matter. Breaking Bad will be in the future archives of television history… I might look in just to see if BB wins in the categories and if some of them are not victorious? Oh well, that just means that Season 4 is gonna be the blockbuster to end all." — respect_the_chemistry
Log onto the Talk forum to join in any of these conversations or start a Breaking Bad topic of your own.
Read More