What You're Saying About Walt's Plan to Kill Gale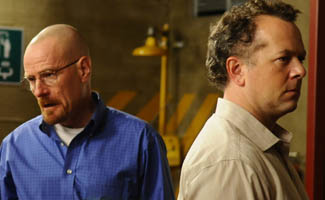 Gale is a great source of intrigue for Breaking Bad fans, with many wondering just how Walt planned to kill him (even though he never did the deed).
– "It was never shown to us that he had a gun… I don't think he planned on killing Gale with his bare hands, but then he has killed someone like that once before (in Jesse's basement)." — lewis_carrot
– "'Hey Gale, I burnt my lip on some hot tea last week… you take the first sip?'" — sully
– "Walt couldn't use a weapon in the lab since he's under constant surveillance, and he wouldn't need to use a weapon there to begin with. If I was Walt I would have tampered with Gale's gas mask then arranged a deadly workplace toxic exposure 'accident.'" — BobD
Log onto the Talk forum to join in any of these conversations or start a Breaking Bad topic of your own.
Read More