What You're Saying About Your Hopes for Season 4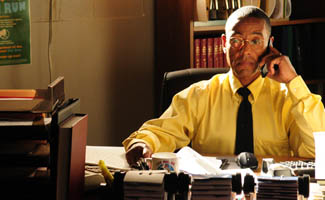 While they wait for Season 4, commenters are compiling their wish lists for future (and in some cases past) plot points.
• "I, myself, would like to see more flashbacks like when Walt and Skyler were inspecting their 'to-be home' and we saw Walt's very high expectations. I would like to see more of an insight on Jesse's school/adolescent days and maybe when Walt was teaching him and what type of experiences/relationships they had together." — Jaryd
• "I'd like to see how Gus turned from a Chilean immigrant businessman into a meth lord, and how closely it parallels Walt's developing rise to power in the same business." — rocky66
• "At least one bottle episode like 'Fly' to get more insight on Saul,Gus,Mike,or Jesse's buddies Skinny Pete or Badger." — respect_the_chemistry
• "I'd like to flash forward, Walt totally in control, Mike his right hand man, Jesse managing street level, [Skyler] cooking the books, Hank and Marie holed up in Walt's compound, Hank still not being able to walk and knowing the second he leaves Walt's protective custody and medical treatment his life is nasty, brutish and short." — dupledruex
Log onto the Talk forum to join in any of these conversations or start a Breaking Bad topic of your own.
Read More