What You're Saying About Your Favorite Scenes in Season 3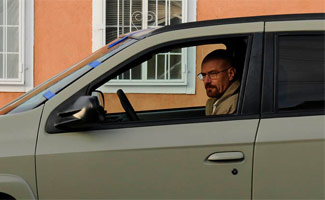 During the lull between seasons, several commenters are reminiscing about their favorite scenes from Season 3. Mike's reaction to Walt ordering a hit on Gale is still spurring conversation among fans of the show, as is Walt's reckless, yet accurate, driving.
• "It's a real toss up between Mike's look of shock when Walt orders Gale's hit or Jesse's expression when Walt shoots Gus' dealer in the head. In either scene, the reactions were so real and so full of complete astonishment by the characters (Mike, Jesse) for not believing or seeing what's right before them, that it was truly thrilling to watch them." — Jamm56
• "Hands down, the prize must go to Walt's 'tactical driving' and spot on marksmanship. The scene with one vato flying over the car, the other tumbled underneath the chassis and the final tap to the head was both jaw dropping and priceless." — Prophet
• "You all can't forget the priceless look on Walt's face when Gus brings free 'los pollos' grub to the hospital-that look on Walt's face killed me-he looked like he wanted to crawl underneath a rug and hide…" — respect_the_chemistry
• "I loved the scene where Mike told the story about 'half measures'. Incredible acting." — kid_nicky
Log onto the Talk forum to join in any of these conversations or start a Breaking Bad topic of your own.
Read More