What You're Saying About Hank's Heisenberg Investigation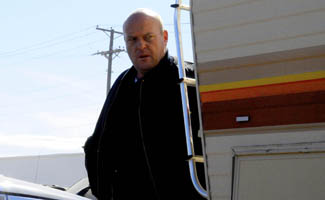 Hank continues to be a source of fascination among commenters during the off-season. This week, fans debated whether Hank would arrest Walt if he figured out his brother-in-law's criminal side gig.
• "I don't think that Hank would ever break bad. Hank would rather smoke tweekers with his sidearm than help out a drug lord like Walt — even if he is family." — respect_the_chemistry
• "I don't think he would. I don't think Hank wants to be a cop anymore. It would be cool if he teamed up with Walt on the other side of the law." — littlenicky
• "It would be the beginning of Hank's dark night of the soul." — dupledruex
• "Hank will stay a good cop and in the end Walt will bring down everything… with Hank's help" — sully
Log onto the Talk forum to join in any of these conversations or start a Breaking Bad topic of your own.
Read More