Press
EW Sees Emmys for Cranston and Paul, People Has Hamm Beating Up Cranston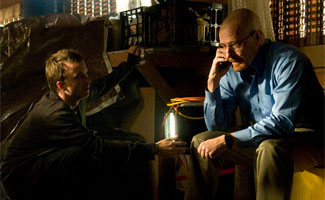 As part of the run-up to the Emmys in late August, Entertainment Weekly makes its prognostications, while People has a mock fight between best actor nominees Bryan Cranston, Mad Men's Jon Hamm and House's Hugh Laurie.
• Entertainment Weekly weighs in with its Emmy predictions, with Michael Ausiello singling out both Bryan Cranston and Aaron Paul as the frontrunners in their categories. He believes that Paul is the best supporting actor nominee with "the strongest work to choose from."
• Meanwhile, EW's Ken Tucker thinks Bryan Cranston will be the "toughest competition" for Kyle Chandler of Friday Night Lights and names co-star Paul as a possible best supporting actor upset winner: "O, how my heart would sing if his work as Jesse was awarded!"
• Should Cranston win his third Emmy? Fellow best actor nominee, Mad Men's Jon Hamm, jokes to People that he and Hugh Laurie are "going to get together after this year's Emmys and just beat the s— out of Bryan Cranston."
• In a sad case of life imitating art, Time references "Negro Y Azul" (Season 2, Episode 7) while discussing the brutality of Mexico's drug war.
Read More