Awards
Breaking Bad Nabs 7 Emmy Nominations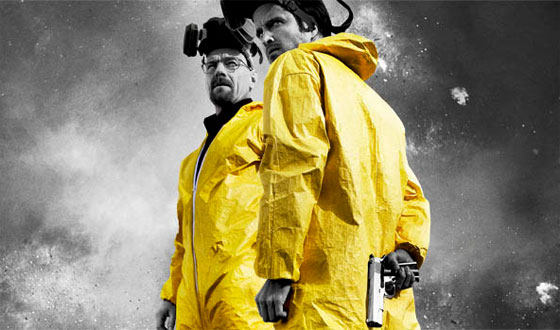 The Academy of Television Arts and Sciences announced the nominees for the 62nd Primetime Emmy Awards this morning, and Breaking Bad scored nominations for Outstanding Drama, Outstanding Lead Actor, Outstanding Supporting Actor, Outstanding Directing, Outstanding Cinematography, Outstanding Picture Editing and Outstanding Sound Editing.
The series, in its second nomination for Outstanding Drama, will be up against Dexter, The Good Wife, Lost, AMC's Mad Men (which earned 17 nominations) and True Blood.
Bryan Cranston, going for his third straight win for Outstanding Actor, shares the category with Michael C. Hall of Dexter, Kyle Chandler of Friday Night Lights, Hugh Laurie of House, Matthew Fox of Lost and Mad Men's Jon Hamm.
Aaron Paul, nominated for Outstanding Supporting Actor for the second straight year, for his portrayal of Jesse Pinkman goes up against Martin Short of Damages, Terry O'Quinn of Lost, Michael Emerson of Lost, Jon Slattery of Mad Men, and Andre Braugher of Men of a Certain Age.
The show also received four other nominations. Michael Slovis was nominated for Outstanding Cinematography for the second straight year, Michelle MacLaren for Outstanding Directing, Skip MacDonald for Single-Camera Picture Editing and Nick Forshager, Kathryn Madsen, Mark Cookson, Cormac Funge, Jason Boegel, Jason Newman and Gregg Barbanell for Outstanding Sound Editing. Click here to see a complete list of nominations for AMC.
The Emmys will air on Sun., Aug. 29 @ 8PM | 7C.
Read More