Press
Breaking Bad Nabs Four TCA Nominations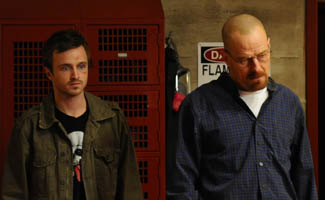 The Television Critics Association announced yesterday the nominees for its 2010 awards, and Breaking Bad has been honored with four nominations — the most this year for any hour-long series — for Best Program of the Year; Best Drama; and two individual drama nominations, for Bryan Cranston and Aaron Paul.
Competing with Breaking Bad in the Program of the Year category are NBC's Friday Night Lights, Fox's Glee, and ABC's Lost and Modern Family. In the Best Drama category, Breaking Bad will be up against ABC's Lost, FX's Sons of Anarchy, CBS's Good Wife, and AMC's own Mad Men.
Cranston and Paul, in addition to competing with each other for the Individual Achievement in Drama award, will face Dexter's John Lithgow (Showtime), The Good Wife's Julianna Margulies, and Sons of Anarchy's Katey Sagal.
The TCA Awards will be handed out on July 31, during the organization's summer press tour.
Read More