Talk Forum – What You're Saying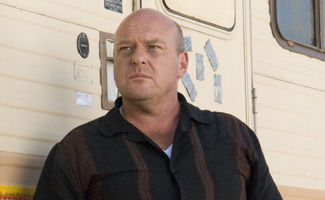 Hank may not have appeared in the Season 3 Finale, but he made an indelible impression on the commenters — who shared theories this week on when they think Hank will discover that his brother-in-law and Heisenberg are one and the same.
• "Hank definitely figures it out next season. Marie may have bought Skyler's ridiculous story regarding the gambling proceeds, but Hank will see right through it." — BeLikeMike
• "With Hank not working, time on his hands, not able to get about like he is used to, all of the little pieces will definitely come together. It will be an epiphany to say the least. Walt is the last person he can imagine being in the business." — gracie
• "Hank's memory and thought processes are still working as normal: Next season when he is settled in his bed at home, he will have a lot of time to think. The 'Heisenberg' case became Hank's number one goal, it became an obsession." — august west
• "Hank has so many issues, just getting him back into the story would take at least an entire episode. He is no longer a DEA agent. He also is a confessed criminal: He testified against himself and admitted the assault on Jesse. Hank is paralyzed and suffers from PTSD… he just seems to be irrelevant." — bullieboi
Log onto the Talk forum to join in any of these conversations or start a Breaking Bad topic of your own.
Read More