Talk Forum – What You're Saying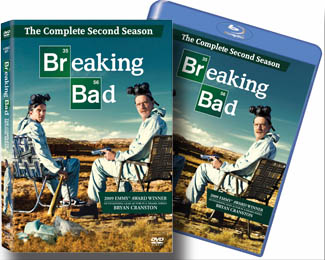 Throughout Breaking Bad Season 3, AMC will award Talk Forum commenters quoted in our weekly "What You're Saying" post with prizes (limit one per person). The week, commenters will receive Season 2 DVD sets.
The Season 3 Finale's cliffhanger ending had commenters this week discussing the implications of Jesse's final moments with Gale, and weighing in with their own predictions for how Season 4 could play out.
• "The only logical scenario is for Gus to kidnap Skyler, Walter, Jr. and/or the baby and hold them hostage, forcing Walt to continue cooking for them. Not sure how quickly Mike and Victor can get to Gale's house, but if Jesse's still there, they can force Jesse to cook with Walt." — geomancer888
• "Killing an innocent man is as cold-hearted as it gets. There's no coming back from that. I see both Walt and Jesse becoming even more ruthless as the series goes on." — Halfpoundshort
• "The only way Walt could save his skin would be to do what Jesse suggested: Turn Gus in, albeit anonymously, and somehow insure Victor and Mike are dealt with at the same time. That would also open the market back up for Walt and Jesse to cook on their own." — precipitate
• "There will be a temporary stalemate between Team Gus and Team Walt. Mike won't be pleased that he was lied to (regardless of whether Saul was lied to). Mike will want to have another 'conversation' with Saul." — bunkerboy
Log onto the Talk forum to join in any of these conversations or start a Breaking Bad topic of your own.
Read More