Talk Forum – What You're Saying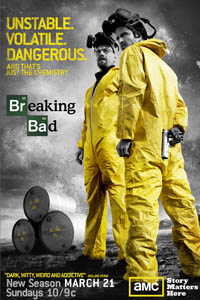 Throughout Breaking Bad Season 3, AMC will award Talk Forum commenters quoted in our weekly "What You're Saying" post with prizes (limit one per person). The week, commenters will receive Season 3 Posters. Next Week: Copies of the Breaking Bad Soundtrack
Skyler's decision to involve herself in Walt's drug business had Breaking Bad commenters divided over theories as to her motivations, and their overall opinions of her.
• "Skyler is where Walt and Jesse were about a year ago, thinking that she's the expert financial person who can pull this off. But she hasn't had to choke someone to death with a bike lock yet, or clean up the residue of a melted dealer that fell through her ceiling. Here's another person getting on that bandwagon of unintended consequences." — MHJim
• "Remember, Skyler knows all about money laundering too… She has helped [Ted] 'cook the books' when she found the imbalances in the ledgers. Skyler's hands are already dirty… It would be fun to watch Saul and her butt heads some more." — DJ71
• "My hat goes off to Skyler in this episode. Perhaps I misjudged her. She seems to have realized the hypocrisy of helping her boss/lover to break the law, while condemning and shunning her husband for the same thing. Maybe she really does want to get back together after all?" — Fulminated Mercury
• "Skyler's a tricky character between the cigarette, cheating , going into the drug business now, etc… Her being involved in the money laundering also gives her a lot of pull over Walt and I could see worse things coming from her down the road." — Chip
Log onto the Talk forum to join in any of these conversations, discuss Sunday night's all-new episode or start a Breaking Bad topic of your own.
Read More