Press
AMC Renews Breaking Bad for Fourth Season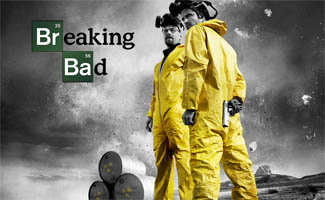 AMC announced today the renewal of its Emmy Award-winning and critically acclaimed drama series Breaking Bad for a fourth season, continuing the network's momentum in delivering the best original storytelling on television. From acclaimed writer/producer/director Vince Gilligan (The X-Files), the series follows the story of a desperate man who turns to a life of crime to secure his family's financial security. Breaking Bad's first two seasons awarded Bryan Cranston the Emmy for Outstanding Lead Actor in a Drama Series, which marked the only time an actor from basic cable has ever been recognized with back-to-back Emmy Awards.
Last night, AMC premiered the final episode from Season 3. Household ratings are 20% stronger than Season 2 and Season 3 is delivering 18% more total viewers and over 30% more adults 18-34 than last season. Breaking Bad is filmed on location in Albuquerque, NM.
"AMC's Breaking Bad is one of the most layered and intense dramas on television today," said Joel Stillerman, Senior Vice President of original programming, production and digital content. "The critical acclaim and strong audience growth we've seen in Season 3 reinforce that this is the kind of exceptional original storytelling AMC has become known for providing to audiences. Vince Gilligan and his team deliver bold storylines that truly push the psychic envelope and create a mesmerizing, exhilarating television experience. We look forward to an incredible fourth season."
Breaking Bad's third season premiered on Sunday, March 21 to the highest ratings ever for the series. Variety "qualified Bad as one of TV's best dramas." Newsday said, "this show — still TV's best — remains utterly true to itself." TV Squad heralded, "all things considered, AMC has a lot to be celebrating. Both Mad Men and Breaking Bad are two of the best — no, they are the best — shows on television." "The writing is among the very elite in television," according to the San Francisco Chronicle.
Breaking Bad is produced by High Bridge Productions, Inc. and Gran Via Productions in association with Sony Pictures Television for AMC. Executive producers are Vince Gilligan and Mark Johnson; co-executive producer Michelle MacLaren; line producer/UPM Stewart A. Lyons; producer Melissa Bernstein; supervising producer Sam Catlin; consulting producer John Shiban; producers Peter Gould, George Mastras and Thomas Schnauz; Co-Producer Moria Walley-Beckett; and director of photography Michael Slovis.
Read More