Press
Time Calls Season 3 Epic, USA Today and LA Times Talk Emmys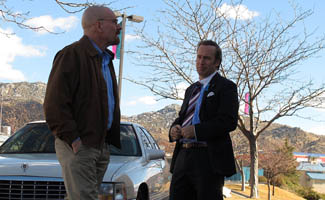 This week, publications like The Hollywood Reporter and USA Today weigh in with their Breaking Bad Emmy predictions, while Time Magazine praises the drama's third season.
• In a review of Season 3, Time lauds Breaking Bad for finding a "higher gear, going from a quirky story about an unlikely criminal to a moral thriller of intimate psychology and epic vision."
• The Hollywood Reporter picks Bryan Cranston and Aaron Paul (he "manages to make his character semi-psychotic and sympathetic at the same time") as shoo-ins for Emmy nominations. USA Today agrees.
• The Los Angeles Times thinks Breaking Bad's chances of scaling "Mt. Emmy" are climbing, citing Anna Gunn and Dean Norris as signs that the drama's "bench is mighty deep."
• Vince Gilligan reveals to the New York Times regarding the Finale's last scene with Jesse and Gale, "There's really no turning back. Life is definitely going to change for Jesse." Gilligan also chats with Variety, The Hollywood Reporter and HitFix.
• From the Huffington Post's feature on Bryan Cranston: "Cranston's Walter H. White has grown from a man acting in desperation to a sometimes ruthless operator we're not even sure we should still like." In addition, Cranston appears on Good Day LA.
• Saturday Night Live's Seth Meyers writes in Emmy magazine, "Watching Walt in the pilot, I assumed I was meeting a man at his lowest point. It turns out that was about as good as it was ever going to get." (No Link)
• Paste Magazine reports that Breaking Bad has been renewed for a fourth season, calling it "the little basic cable show that could." USA Today, The Los Angeles Times, Zap2It and TV Squad also cover the renewal.
• Find your Season 3 Finale recaps and reviews at A.V. Club, Entertainment Weekly, HitFix (recap and review), IGN, the Los Angeles Times, New York Magazine, Premium Hollywood, the San Francisco Chronicle, Time, TV Guide, TV Squad, UGO.com and the Wall Street Journal.
Read More