Press
Variety and LA Times Talk Emmy Noms, Newsday Gives Season 3 Finale an A-Plus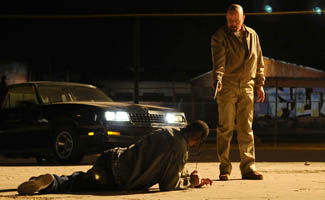 Emmy excitement is in the air as Variety and the Los Angeles Times talk up Breaking Bad for nominations, while early reviews from Newsday and The New York Post praise the Season 3 Finale.
• Variety calls Breaking Bad an Emmy lock, praising the drama for its "superb acting, writing, directing, cinematography." The Los Angeles Times concurs, explaining the series' Emmy win is "overdue."
• Variety picks Anna Gunn as an Emmy contender, praising her "finely tuned performance." The publication also likes two-time winner Bryan Cranston, previous nominee Aaron Paul ("it might be Paul who gives the most searing performance") and Dean Norris for possible nods.
• Newsday gives Breaking Bad's Finale an A-plus: "With Sunday's nail-devouring closer, Breaking Bad wraps one of the most satisfying seasons of any major series." The New York Post, Philadelphia Daily News, and Salt Lake Tribune also weigh in with praise for the Finale.
• USA Today reminds viewers to tune in to the Season 3 Finale of "one of TV's best and most uncompromising dramas."
• True Blood's Stephen Moyer says Breaking Bad is his favorite show: "I think Bryan Cranston and Aaron Paul, it would be wonderful if they both could get best actor nominations. They are f—— brilliant."
• Bryan Cranston and Aaron Paul chat with The Los Angeles Times, envisioning a future role for Justin Timberlake on the show, while Cranston talks to Variety about his morally complex character.
• Bryan Cranston jokes with Jimmy Kimmel about the ABC host's enthusiastic audience: "Perhaps they have had some of my product that I cook on the show."
• Aaron Paul appears on Southern California's KTLA Morning News, saying, "They just keep upping the ante with the show."
• Dean Norris talks to The Los Angeles Times, discussing his favorite scene of the series. (It involves Tuco.)
• RJ Mitte tells LAist about the White family's meals: "Every scene where we have a dinner, or mostly breakfast actually, we have to prepare for a rough scene."
• Bob Odenkirk reveals to TV Squad about the Season 3 Finale, "Water gets hot around Saul … uncomfortably hot."
• Here's a list of recaps/reviews for last week's episode: A.V. Club, Entertainment Weekly, HitFix (recap and review), IGN, the Los Angeles Times, New York Magazine, Premium Hollywood, the San Francisco Chronicle,Television Without Pity, TIME, TV.com, TV Squad, UGO.com and the Wall Street Journal.
Read More