Press
The Boston Globe and TV Guide Tout Anna Gunn, Bryan Cranston Chats With THR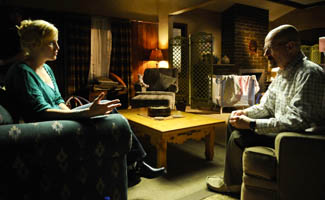 This week, Anna Gunn receives high marks from The Boston Globe and TV Guide, while The Hollywood Reporter chats with Bryan Cranston and Vince Gilligan.
• The Boston Globe singles out Anna Gunn in an article about building the perfect TV season: She "brings out new shades of anger, despair, claustrophobia, and mystification every week."
• TV Guide "Cheers" Anna Gunn for her performances on Breaking Bad and an episode of Law & Order. "With such tours de force," the review states, "We won't be surprised if Anna guns for an Emmy." (No Link)
• In a Hollywood Reporter feature, Bryan Cranston says the studio "questioned whether the goofy dad from Malcolm was the right choice" to play Walt. He also talks to THR about directing himself.
• Anna Gunn tells The Hollywood Reporter she broke tension on set after shooting a love scene between Skyler and Ted by feeding Chris Cousins (Ted) pie as the cameras rolled: "He was amused and mortified," she says.
• Vince Gilligan, meanwhile, tells the Hollywood Reporter that he prepared to direct the Season 3 finale by watching Once Upon a Time in the West: "The movie puts me in the mood of the show, a Wild West state of mind."
• Aaron Paul reveals to Daemon's TV about Episode 12, "Everyone is definitely going to be on the edge of their seats."
• Bob Odenkirk jokes with New York Magazine about Saul's family: "My personal feeling is his family disowned him."
• Here's a round-up of recaps and reviews for Episode 11, "Abiquiu," from the A.V. Club, HitFix (recap and review), IGN, the Los Angeles Times, New York Magazine, the San Francisco Chronicle, Television Without Pity, Time, TV.com, TV Squad and UGO.com.
Read More