Talk Forum – What You're Saying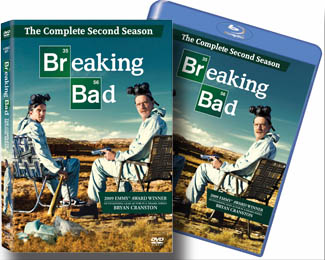 Throughout Breaking Bad Season 3, AMC will award Talk Forum commenters quoted in our weekly "What You're Saying" post with prizes (limit one per person). The week, commenters will receive Season 2 DVD sets. Next week: Season 3 Posters.
Last week's episode had commenters reveling in Walt and Jesse's united pursuit of the fly, and wondering just how far Walt's guilt over Jane's death was going to take him.
• "The episode was a great reset that allowed Jesse and Walter to become closer, reintroduce some much needed humor, and show that Walter is drifting more to the edge… There is great 'chemistry' between Walter and Jesse and it was bold to dedicate an entire episode to the two of them." — Ken
• "All this season I've been waiting for Walt and Jesse to interact. It reminded me of the episode that they went to the desert in the RV, and when things went wrong Walt figured out how to fix things. This time Jesse figured out how to fix things." — jtinimiami
• "Think about all of the speculation we've had regarding Walt's guilt coming to a head over the consequences of his actions, Walt telling Jesse about Jane, and the renewal of the dysfunctional family-like bond between Walt and Jesse… all addressed in but one fell swoop!" — chili p
• "I could barely move a muscle, wondering if Jesse was going to fall off the ladder, or if Walt was going to mention his involvement in Jane's death. The interplay between Walt and Jesse reminded me of an Arthur Miller play." — lala10
Log onto the Talk forum to join in any of these conversations, discuss Sunday night's all-new episode or start a Breaking Bad topic of your own.
Read More