Uncategorized
The Breaking Bad Soundtrack Giveaway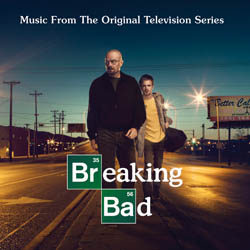 In case you didn't know it already, the Breaking Bad Soundtrack is now on sale via iTunes and Amazon.com. In short, your opportunity to own some music from Seasons 1 and 2 is at hand. As if 16 tracks from Breaking Bad Composer Dave Porter and Music Supervisor Thomas Golubić weren't incentive enough, AMC is sweetening the deal by giving you a chance to win a free hard copy of the album.
Simply answer the bonus question in the comments section below by Fri., Jun 4 at 11:59PM ET | 10:59 C and you'll be entered in a random drawing to win one of two free copies of the disc complete with liner notes.
To whet your appetite for this audio feast, we present for your listening pleasure Dave Porter's "Main Title Theme" — an extended version of which can be found on the soundtrack:
Bonus Question: What is the title of the single produced by Jesse's garage band TwaughtHammer?
Click here to download the album on iTunes.
Click here to purchase the album through Amazon.
Read More