Press
EW Picks Cranston, Gunn and Paul for Emmys, Cranston Joins THR's Emmy Roundtable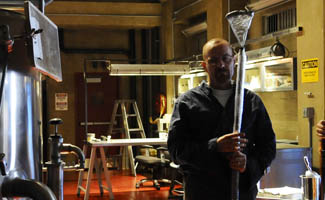 This week, Entertainment Weekly thinks Breaking Bad is a lock come Emmy time, Bryan Cranston joins other standout actors (including Mad Men's Jon Hamm) in The Hollywood Reporter's Emmy Roundtable, and more.
• Entertainment Weekly's Dream Emmy Ballot includes Breaking Bad for best drama ("TV's most nerve-racking hour hit a new creative high in year 3"), Bryan Cranston for best actor, Anna Gunn for best actress and Aaron Paul for best supporting actor.
• Does Bryan Cranston think Breaking Bad is funny? He tells The Hollywood Reporter's Emmy Roundtable, "Every good drama has a nice sprinkling of levity to it."
• Bryan Cranston describes winning his first Emmy on Last Call with Carson Daly: "They announce Bryan Cranston, and for a split second I thought, 'I know that guy…'" (No Link)
• The New York Post interviews RJ Mitte, who teases an upcoming showdown between Walter, Jr. and Hank.
• Bob Odenkirk describes his acting approach to The Daily Beast, saying Bryan Cranston's "performance is so thorough and intense and complete, I don't want to look like I'm playing the banjo at Shakey's."
• At the close of the TV season, The Salt Lake Tribune says Breaking Bad is "one of the best-written pieces of TV," while the San Diego Union-Tribune thinks Bryan Cranston is proof that "cable has given actors of a certain range the roles of their lifetimes."
• Rolling Stone cites Walt throwing his drug money onto the grill in the Season 3 opener as one of TV's best moments this season. (No Link)
• Entertainment Weekly picks one of Jesse's lines in Episode 10 as a Sound Bite: "We make poison for people who don't care. We probably have the most unpicky customers in the world." (No Link)
• Breaking Bad as a comic strip? Check out The Seattle Post-Intelligencer for its take.
• Find your recaps and reviews of Episode 10 at A.V. Club, Entertainment Weekly, HitFix (recap and review), IGN.com, the Los Angeles Times, New York Magazine, the San Francisco Chronicle, Time, TV.com, TV Squad, UGO.com and the Wall Street Journal.
Read More