Press
EW Talks Breaking Bad's Beauty, NY Post Talks Emmy Nom for Norris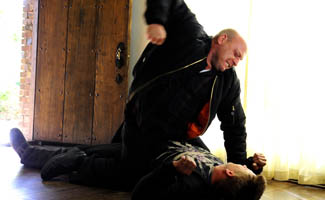 This week, Entertainment Weekly calls Breaking Bad the most beautiful show on TV, the New York Post mentions Dean Norris and Emmy in the same sentence and TV Guide chats with Aaron Paul.
• Entertainment Weekly says Episode 7 of Breaking Bad was "more explosive than an RV meth-lab driving into a burning building. It was also one of the most beautiful-looking hours on TV this season."
• The New York Post's Starr Report says Dean Norris "should have an Emmy nomination sewn up after his gut-wrenching performance in last night's rollercoaster episode," and the paper's Drama Mama thinks he "made every scene riveting."
• TV.com lauds Breaking Bad, likening the series to the NBA's LeBron James and proclaiming Episode 6, "Sunset," "the best single episode of television in years."
• Dean Norris tells New York Magazine the writers were "courageous" to explore the dark side of a humorous character like Hank. He also chats with Bullz-Eye.com.
• In TV Guide, Aaron Paul declares Season 3's last two episodes "mind-blowing" and observes, "If you think you know what's going to happen, something quite the opposite will happen."
• Newsday excerpts AMCtv.com's interview with Luis and Daniel Moncada, aka The Cousins, noting, "these guys are scary."
• The Arizona Republic imagines Betty White on Breaking Bad as a "rival dealer, a blue-mouth octogenarian running meth out of her guest house as a hobby."
• According to Life & Style Weekly, Jasika Nicole — who plays Astrid on Fox's Fringe — never misses Breaking Bad, her "new favorite show." (no link)
• You can find Episode 7 recaps and reviews at the Los Angeles Times, The Star-Ledger, Time, TV Squad, A.V. Club, TV.com, UGO.com, New York Magazine, the San Francisco Chronicle, IGN.com, TVOvermind and /Film.com.
Read More