Uncategorized
Q&A – Michael Slovis (Episode 9 Director)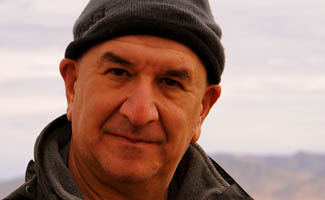 Breaking Bad's Season 2 and Season 3 cinematographer takes the helm as the Episode 9 director. He discusses the transition, explains how to make falling meth look like art and describes the visual tricks he uses to make the Cousins extra menacing.
Q: You directed Episode 9 this year. Is the transition from Cinematographer to Director difficult?
A: No. Because I was really amongst family and friends — at least a working family — and I knew that I had the support of everyone from Vince right through the entire company and cast and network and production. So it really was not very difficult at all. I was a little afraid — I certainly didn't want to let anybody down, I wanted to do justice to the material. But, it was quite fun and it felt very natural to me.
Q: How did you achieve the trippy imagery of falling meth and cascading chicken in slow motion?
A: That was very interesting. It was my first time using this specific camera called the WeissCam. It shoots speeds up to 4,000 frames per second. Normally, we shoot at 24 frames per second. In order to get that slow motion, we shot at a very, very high speed and then play it back at 24 frames per second. So when they dump that meth, it literally was a second. It was ready go, start the camera, dump, and it's over. And then when we play it back at 24 frames per second, having shot it at 4,000 frames per second, that stretched it into a 45 second shot.
Q: What was your favorite scene in the episode?
A: It's very hard with Breaking Bad, because every single scene is so well-written and every single performance is so well acted that how can you separate one from the others? I particuarly enjoyed working with Anna and Bryan and Betsy at the end of the episode. I just loved that writing. I thought it was hysterical. I thought Anna did a great job and Anna, Bryan and Betsy and Vince completely trusted me with with a very important scene for the series, where Skyler really breaks out and starts to control the show.
Q: The Cousins were a silent but terrifying presence this season. How did you, as the cinematographer, make them so menacing?
A: We very often keep the camera quite low on those guys, so we're always looking up at them which puts them in a position of strength and dominance over what's going on. But the nature of the way we shoot the show, which is a somewhat wide lens, close and low, really helps their characters.
Q: Was the big shootout between Hank and The Cousins difficult to shoot?
A: Extraordinarily. Poor [Episode 7 Director] Michelle [MacLaren]… It was a very tall order and a very complicated scene with a lot of bits and pieces, some of them very complicated, with effects, guns and blood. And you have to realize that the minute something goes wrong with effects, there is a lengthy reset time and we were shooting late in the season, the days were short, we didn't have a lot of time. We did it very quickly, very efficiently — it was just a lot of pieces, but they all added up to something quite extraordinary.
Q: How do you differentiate the shots between scenes in Mexico, the desert and then Walt's neighborhood?
A: I want to give everything its own kind of palate, so when we were in Mexico I gave a golden, yellow-orange kind of glow. And that was the very first shot of the season, when we introduce the Cousins. Out in the desert, I give a brownish, yellowy tinge,because those are the colors that originally struck me when I went to New Mexico to shoot. Then when we are in the house, I play counter to what's been going on in the White house and try to keep that very warm and cozy, almost like a Procter & Gamble commercial — very loving and very inviting in spite of the story that's being told. And then for exteriors, I always go for the bluest New Mexico sky I can.
Click here to read an interview with the men made menacing under Michael Slovis's cinematography: The Cousins (aka Daniel and Luis Moncada).
Read More