Interviews
Q&A – Dave Porter (Composer) and Thomas Golubic (Music Supervisor)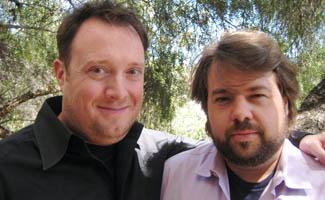 Breaking Bad's music men (Dave, Left; Thomas, Right) discuss their new Breaking Bad soundtrack, on sale Tue., May 18 on iTunes and Amazon. They also explain how Bryan Cranston's brow helps them with their music selection, and describe what kind of soundtrack befits an AMCtv.com interview.
Q: Tell me about the Breaking Bad Soundtrack you've created.
DP: It's getting released on May 18th and you can order it from iTunes or Amazon as digital copies, and if you want an actual CD in the mail you can order it from Amazon and they'll send you one with our liner notes and artwork. We wanted to start at the beginning, so the soundtrack covers Season 1 and parts of Season 2.
TG: Because the landscape is very different now for releasing soundtrack albums, we feel this makes sense to start from here and work our way as we go. It's up to the fans to let us know whether we want to do a volume two and three and so on.
Q: How did you decide what music to include?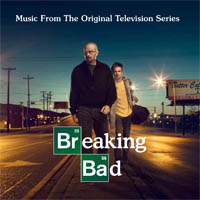 TG: It's a very difficult process. We wanted to have a balance of source and score. Both are representative elements of the show, and we're really happy with the songs that are in there.
DP: There are physical limitations of how much you can put on a CD. We all have favorite moments in the show. All the score in the soundtrack is from Season 1 and there's some great moments in there: Jesse returning to his aunt's basement after Walt has cleaned it up, Walt bandaging himself back together after he was cut with the plate by Krazy-8, and of course the theme.
TG: Which we have the extended version of.
DP: Theme songs have gone the way of the dodo bird. Just this week I got a ballot from the people who do the Emmys asking composers to vote on whether to get rid of the entire category for theme songs. One of the neat things I got to do was make an extended version that flushes out what the original intention of that piece was, even though when you see it on the show it's only maybe fifteen seconds long.
Q: One of the tracks you include, "Fallacies", is by Jesse's band Twaughthammer. Who really wrote and recorded it?
DP: I wrote all the music. Vince and one of the other writers wrote some hilarious lyrics. We fleshed them out and brought in some great musicians to play it, though I had to keep telling them not to play too well — the whole point was it was supposed to be an amateur band. We brought in actors from the show to sing it. Matt Jones [Badger] is a good rock and roll singer. Aaron Paul [Jesse] sang back up, and so did I actually.
Q: Were you ever in a garage band?
DP: I never was. I will confess, as a musician, I've never played well with others, which is probably why I'm a composer.
Q: Thomas, were you surprised when putting the soundtrack together at how much Reggae ended up on the show?
TG: The first day of the show I never would have said, "Oh we're going to end up with a lot of Caribbean music in this thing," but in a weird way the sense of humor of the show and the sensibilities of the characters seems to work really well with Caribbean music. We have bands like The Black Seeds who are actually a New Zealand band. We got a chance to bring in Yellowman who is this wonderful 1980's dance hall artist. When Jesse was evolving from the sort of angry, knucklehead hip-hop and he met Jane and fell in love, it tapped into these other parts of his personality. That sound has a sort of romantic sweetness to it. As you hopefully connect with those songs you feel the loss of Jane that much more.
Q: Tell me about the narcocorrido, "The Ballad of Heisenberg," commissioned for the show. What input did you have with that?
TG: Narcocorrido is literally translated to drug ballad. It made more sense to reach out to people who do this for a living rather than have Dave and I try to figure out how to mimic it. So we brought in a writer named Pepe Garza who collaborated with Vince. And we found this wonderful band, Los Cuates de Sinaloa, and they performed the track. We wanted anybody involved in that world to recognize it as being legitimate and honest.
Q: Do the actors influence the music you source or create?
TG: They do in their capacity to express their characters really well. When you have "A Horse with No Name" by America, there are not a lot of people that would consider that to be a cool song. But Walt thinks it's a cool song.
DP: I have become extremely adept at watching Bryan Cranston's forehead for just the right wrinkle in his furrowed brow to know when the music should start, and just the right moment of fatigue and weakness out of Dean Norris's character. They don't tell us what to do, but they make it a very clear path.
Q: In Episode 8 this season, Walt says he's more Classical and Gale is more Jazz. If you had to describe your personality as a music genre what would it be?
TG: That's like asking Vince who his favorite character is. I think we love all our children equally.
DP: The irony to me, when I watched that, is that I don't think of Walt as Classical at all. If anyone's Classical it's Gale. But Walt loves to sort of imagine himself as someone that he isn't.
Q: Do you ever find yourself, in real life, thinking about what music could be playing to make a moment more interesting?
TG: I'm scoring this interview right now. I've got kind of a nice marimba, sort of Cuban Latin thing going on.
DP: I'm feeling like some beach bar, late in the day, nice and relaxed summer Fridays kind of feel.
TG: I think I want to switch my soundtrack to yours.
Click here to download the Breaking Bad Soundtrack on iTunes.
Click here to purchase the Breaking Bad Soundtrack through Amazon (and if you prefer a hard copy with liner notes).
Read More