Press
Breaking Bad Soundtrack Goes on Sale Today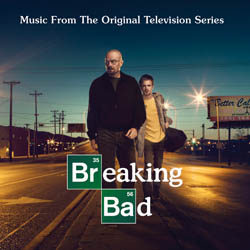 You asked for it, you waited for it, and now you're finally going to be able to get it. On sale today via Amazon and iTunes is the official Breaking Bad soundtrack, featuring selections from Dave Porter's score as well as the work of other recording artists featured in the series under the music supervision of Thomas Golubić. (Click here to read a joint interview with Porter and Golubić.)
Drawing from Seasons 1 and 2, the soundtrack includes a special extended edition of the show's main title theme as well as other original tunes like "Ballad of Heisenberg" by Los Cuates de Sinaloa and "Fallacies" by Jesse's garage band TwaughtHammer. The album's source music includes songs from recording artists such as The Black Seeds, Yellowman, The Walkmen and The Silver Seas.
Click here to download the album on iTunes.
Click here to purchase the album through Amazon (and if you prefer a hard copy with liner notes).
Read More