Talk Forum – What You're Saying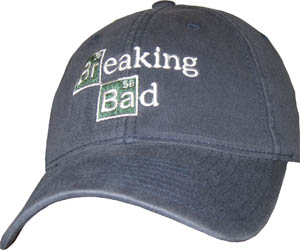 Throughout Breaking Bad Season 3, AMC will award Talk Forum commenters quoted in our weekly "What You're Saying" post with prizes (limit one per person). The week, commenters will receive Breaking Bad baseball hats. Coming up next week: Heisenberg USB drives.
Gus's decision to sacrifice Hank to the Cousins has Breaking Bad fans buzzing about their favorite DEA agent — and whether or not he'll outlive the cancer-stricken Walt.
• "I really hope Hank does not get axed. I'm waiting for the scene when he realizes that Walt is the Big H! That's going to be the best moment of the series. But, I can't imagine how Hank's going to keep safe from the Cousins!" — Nimrod1313
• "I don't see anything tragic happening to Hank. He's going to be around until the very end. The show thrives on the fact that a determined Hank is coming ever closer to finding out the shocking truth about Walt's secret life." — waltsbaldhead
• "I think Hank is gonna go off the deep end because of the whole fake call about Marie. He's gonna kick Jesse's ass without the proper warrants and lose his job." — pinkteddybear
• "I think Hank may finally learn the truth about Walt after he's lost any power to do anything about it. I have a feeling he'll lose his job soon. The search for Heisenberg will ultimately ruin his life. Just another angle of how Walt's choices destroy the people around him." — BBFan2010
Log onto the Talk forum to join in any of these conversations, talk about Sunday night's all-new episode or start a Breaking Bad topic of your own.
Read More