Talk Forum – What You're Saying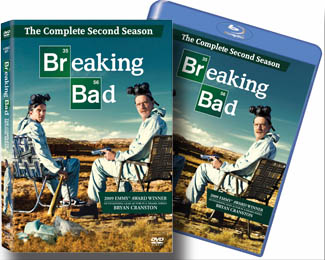 Throughout Breaking Bad Season 3, AMC will award Talk Forum commenters quoted in our weekly "What You're Saying" post with prizes (limit one per person). The week, commenters will receive Season 2 DVD sets. Coming up next week: Breaking Bad baseball hats.
In Episode 5, Walt cuts Jesse out of the business, while Hank discovers a photo of him with Combo. Now the commenters are wondering what will become of the lovable ne'er-do-well.
• "I'm wondering how this Salamanca blood-debt is going to play out now. If you think about it, it wouldn't take much to push the whole blame on Jesse. Jesse was the one that shot Tuco, and it was his car that lead Hank to that hideout. If Jesse takes the fall, Tuco is avenged, Tio is satisfied and Walt can keep cooking for the benefit of Gus and maybe the Cartel as well." — ld57
• "I highly doubt Jesse would be killed off at this point and it looks like even though him and Walt are at odds now, they will be forced to team up, maybe… but things aren't looking good for Jesse. All I know is if he gets busted, I can't help wondering if he'll become a snitch." — BB1313
• "Nothing's gonna happen to Jesse. It looks as if he's going down or about to get pinched, but Walt is gonna protect him somehow after all. Sure, Gus doesn't like Jesse, but Walt might pull a 'I won't cook if something happens to him,' type of thing." — medusa
Log onto the Talk forum to join in any of these conversations, discuss Sunday night's all-new episode or start a Breaking Bad topic of your own.
Read More