Talk Forum – What You're Saying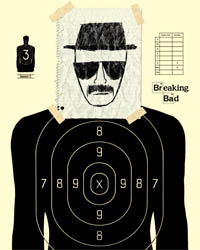 Throughout Breaking Bad Season 3, AMC will award Talk Forum commenters quoted in our weekly "What You're Saying" post with prizes (limit one per person). The week, commenters will receive Heisenberg Target Posters. Coming up next week: Season 3 DVD sets.
Walt's actions in Episode 4, Green Light, have commenters wondering: Who is Walter White these days — the milquetoast chemistry teacher, or the meth manufacturer Heisenberg? Their theories abound.
• "Walt's rage over Jesse 'stealing' his recipe. His indignant arrogance. How dare the young student try to out perform the teacher! How dare the apprentice upstage Heisenberg! Hard to say who we really are seeing here. The O.C.D. chemist who's been burned before by stolen ideas, or the emerging drug kingpin who will do anything to defend his territory. Hmm." — tj
• "Despite not wanting to cook anymore, look at the ego and rage at Jesse for having the audacity to plagiarize Walt's recipe. Look at how much respect and control matter to Walt. Add to that his no-fear attack on Ted's office at Beneke, and you can see, Walt is now Heisenberg pretending to be Walt. Symbolic of this is, the light changing to green, and the car behind Walt honking as if to say 'what are you waiting for?'" — brokebadinOR
• "Go Jesse! Interesting to witness Walt doing his instant Jekyll & Hyde turn, erupting indignantly when he feels his Heisenberg 'meth cook' persona challenged." —Prophet
Log onto the Talk forum to join in any of these conversations, discuss Sunday night's all-new episode or start a Breaking Bad topic of your own.
Read More