Talk Forum – What You're Saying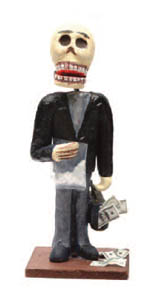 Throughout Breaking Bad Season 3, AMC will award Talk Forum commenters quoted in our weekly "What You're Saying" post with prizes (limit one per person). The week, commenters will receive miniature Heisenberg Santa Muerte statuettes. Coming up next week: Season 3 posters.
Breaking Bad fans this week pondered Jesse's back-door deal to take back his aunt's house, and whether it's proof-positive of the character's ever-darkening soul.
"It's kind of a surprise, and very interesting to watch Jesse wholeheartedly embracing his badness without a tinge of emotion or regret. I thought Jesse would escape becoming cold-hearted, but maybe not. If not, former partners and friends better take note; it's not the same Jesse and all bets are off." —Jamm56
"While the act may have first appeared as sneaky and childish, I feel it's really a more mature Jesse that we're actually seeing. The Jesse we knew last season wouldn't have known what to do, or how to feel on his own without someone else telling him. He was just going to the "Enemy's Camp" and getting back what the devil had "stolen" from him… pretty much on his own. Well, and with Saul's legal guidance!" —diksee
"Jesse has undergone a transformation. He is clean from drugs, his mind is clear and he can see that he needed to make some changes. He is making adjustments and will continue to adapt to the new role he is going to play now. Jesse will be more grounded now, not to say his path is clear, but at least his mind is." —R.W.
Log onto the Talk forum to join in any of these conversations, discuss Sunday night's all-new episode or start a Breaking Bad topic of your own.
Read More