Press
Bryan Cranston Recycles With Wanda Sykes, Dean Norris Chats With USA Today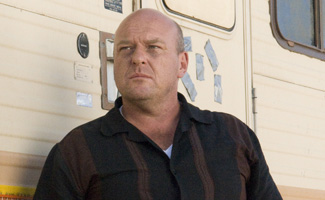 This week, Dean Norris talks to USA Today and Bryan Cranston trades quips
with Wanda Sykes, while Bullz-Eye.com ranks Breaking Bad in its Spring TV list and the Plain Dealer includes the drama in an article about TV's golden age.
• Bryan Cranston visits The Wanda Sykes Show, where he makes an Earth Day observation: "What about human recycling? When Grandma passes away, toss her into the compost heap."
• Dean Norris talks to USA Today about everyone's favorite DEA agent. "Nothing could be better than to set up a character, dismiss him and then bring a whole different side to him," he says. Norris also chats with the LAist
• 411mania.com talks to Anna Gunn, who explains how Breaking Bad's Pilot script "read not just like a good TV show but basically read like one of the best indie film scripts I'd ever read."
• Bullz-Eye.com places Breaking Bad at #3 in its Spring TV Power Rankings, explaining "Whatever happens, with Breaking Bad, one thing's for sure: it probably won't be what you expect."
• Cleveland's Plain Dealer singles out Breaking Bad in a piece about the golden age of television. Breaking Bad is as "wildly satirical as it is emotionally searing," the newspaper states.
• Want to know what happened in Episode 6? You can read recaps and reviews in the Los Angeles Times, The Star-Ledger, The Wall Street Journal, HitFix.com, UGO.com, A.V. Club, T.V. Squad, the San Francisco Chronicle, Time, New York Magazine and IGN.com.
Read More