Press
People Praises Anna Gunn, the LA Times Talks to The Cousins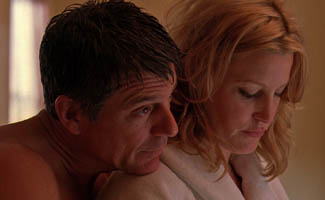 This week, People Magazine praises Anna Gunn, the Los Angeles Times interviews the real-life brothers who play The Cousins and the New York Post logs onto BetterCallSaul.com.
• People Magazine lauds Anna Gunn's Breaking Bad performance, saying "Gunn seems to have been infected by the show's bitter feverishness." [no link]
• The Los Angeles Times talks to Daniel and Luis Moncada, the real-life brothers who play Season 3's ominous Cousins. "Would you be cool with me if you saw me in an alley?" Luis asks about his sinister stare.
• The New York Post has the inside story on BetterCallSaul.com, where Saul Goodman "sells himself like a used car salesman, but he's selling justice."
• /Film.com interviews Natasha Vargas-Cooper (Mad Men Unbuttoned) about Episode 5. "The more Walt inhabits Jesse's world, the less he is a father to his own son."
• Missed Episode 5? Check out these recaps at the Los Angeles Times, The Star-Ledger, the San Francisco Chronicle, Time, The Wall Street Journal, TV Squad, A.V. Club and HitFix.
Read More