Press
Cranston Jokes With Jon Stewart, Odenkirk Ponders Death With GQ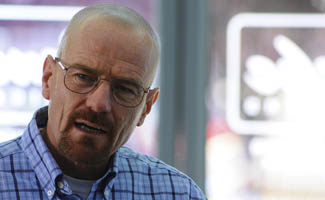 This week, Bryan Cranston does the talk show rounds, appearing on The Daily Show with Jon Stewart and The View, while Bob Odenkirk chats with GQ and Anna Gunn talks to TV Junkie.
• Bryan Cranston pays his first visit to The Daily Show with Jon Stewart, where he shows off his new fake memoir, titled My Life's a Meth.
• Bryan Cranston explains to the ladies of The View how Breaking Bad discourages criminal activities ("No one in their right mind would want to trade places with my character"). The actor also gives Blackbook Magazine the soundtrack to his life.
• GQ features an interview with Bob Odenkirk, who calls Saul "a ray of scummy light" and reveals that "every script I get I'm looking for how I die."
• Anna Gunn chats with TV Junkie, admitting she had to get over "feeling badly that some people felt that Skyler should 'just stop bitching at Walt'."
• Recaps of Episode 4 can be found at the Los Angeles Times, Wall Street Journal, The Star-Ledger, TV Squad, A.V. Club, HitFix, New York Magazine, Time and the San Francisco Chronicle.
Read More