Press
EW Explains What Makes Bad Good, Plus Cranston's Other TV Appearance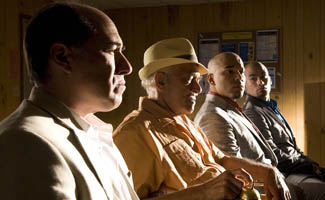 This week, Entertainment Weekly points out a direct correlation between Walter White's diminishing quality of life and the increasing quality of the series. Elsewhere, Bryan Cranston visits with Tavis Smiley on PBS while Anna Gunn discusses Skyler with the New York Post.
• Entertainment Weekly's Dalton Ross says of Breaking Bad, "While things may have gone from bad to worse for Walter, they've never been better for viewers."
• Bryan Cranston visits PBS's Tavis Smiley Show, explaining the relatability of Walter White's predicament: "Everybody's level of morality is malleable," he says.
• The New York Post's Michael Starr talks to Anna Gunn, who tells him Season 3 is about "how everyone else 'breaks bad' in their own ways." The Daily Northwestern also interviews the actress.
• The Los Angeles Times reviews Breaking Bad Season 3, claiming "A television show is at its best when the real drama occurs beneath the surface of the screen," and "that's exactly what is happening."
• Need a recap of Episode 3? Try The Star-Ledger, Time.com, New York Magazine, The San Francisco Chronicle, The A.V. Club, UGO.com, IGN.com, /Film, Hitfix.com or TV Squad.
• In addition to its recap, New York Magazine lists The Cousins on the "Brilliant" and "Highbrow" quadrant of its Approval Matrix.
• 411.com talks to Cinematographer Michael Slovis and Production designer Mark S. Freeborn about the look of Breaking Bad. "The locations are equal characters to the performers," Slovis says.
• 411.com also talks to Lynne Willingham, Breaking Bad's two-time Emmy-winning editor who credits her success on the writing and acting, which "sometimes makes [the job] very easy, to be honest."
Read More