Press
Vince Gilligan Dishes to Vanity Fair, The Boston Globe Praises Cranston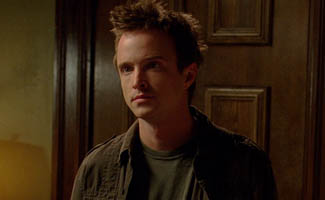 This week, the San Francisco Chronicle praises Breaking Bad (and Mad Men) for not sticking to a formula, Vanity Fair ponders Vince Gilligan's alternative career and The Boston Globe congratulates Bryan Cranston on escaping typecasting.
• The Boston Globe singles out Bryan Cranston, saying he's "achieved an against-the-odds TV transformation… [and] broken the typecasting curse."
• The San Francisco Chronicle calls Breaking Bad and Mad Men "the two best dramas on television" in a feature bemoaning formulaic television.
• In a Vanity Fair interview, Vince Gilligan admits he briefly considered a career in meth: "The image of the meth lab in the back of an RV did come before the idea of a man who was dying of cancer," he says.
• Need a recap of Episode 2? Try The Star-Ledger, New York Magazine, The San Francisco Chronicle, The A.V. Club, UGO.com, IGN.com, Television Without Pity or TV Squad. The Los Angeles Times says the hour felt like it flew by in 15 minutes.
• The Los Angeles Times also talks to Bryan Cranston, who describes the emotional toll of playing Walt: "At the end of the day, I take two moist towels, put them on my head and wash all of Walt's energy off of me," he says. The New York Observer and Collider.com also run Q&As with the actor.
• The New York Post interviews Aaron Paul, who says playing Jesse now is "a complete 180. It's almost like playing a different role."
• TV Guide interviews Dean Norris, who hints at an upcoming tangle between Hank and Ultimate Fighter Keith Jardine: "Do I kick his ass?" Norris teases, "You can judge that!"
• Bob Odenkirk talks to the Cincinnati Enquirer about Saul Goodman. "It's a little bit of a game to him, to move these pieces around and see if he can make some money." Odenkirk also tells Yahoo! that Saul is a "snake" who's "only out for himself."
Read More