Video
Q&A – Jane Parsons (Video Contest Winner)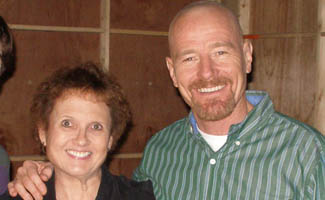 The winner of last season's You Could Be on Breaking Bad Video Contest, fifth-grade teacher Jane Parsons, discusses her television debut in Episode 5 and compares her teaching style to that of Walter White in AMCtv.com's exclusive interview.
Q: Tell me about the scene you shot. What do you do in it?
A: I was the "Woman Pushing Stroller" [when Skyler drives to Ted's house in Episode 5]. Having no lines didn't bother me at all, since I had to focus my motherly attention on "Creepy Baby," aptly named by the crew. They treated me like royalty, even putting my name and a star on the door of a dressing room in one of the trailers. I enjoyed the monochrome outfit I wore. I was told, "We're a very beige show."
Q: What was your favorite set to visit?
A: How can anything compare to the Winnebago? It was actually larger and longer than I thought, and yep, the bullet holes are in the door. It was hilarious to see that Jesse's bags of Funyuns were still in a box on the floor. In the White house, attention to detail is astounding, down to the family photos on the refrigerator. Baby Holly's room has the infamous vent where Walt stashed his cash and Jesse's gun. I also noticed a little bin on the floor that held socks and Walt's tighty-whities.
Q: Which cast members did you get to meet?
A: I met all the key players: Bryan, Aaron, Anna, Dean, Betsy, and RJ. Bryan said that I should be the official Breaking Bad trivia expert ("What episode is that line from? Let's call Jane!") When he called me their "greatest fan," I told him that made me sound weird. Bryan replied, "You are weird!" I loved that! Once when he finished a scene he looked at me and simply said, "Stay out of my territory." Late Friday evening, the buzz on the set was that Vince Gilligan was on site. We made our way to each other to shake hands and spontaneously hugged instead. Vince Gilligan is the type of person who makes you feel as if you are the most important person in the room. He charmed us with his down-home and sincere personality.
Q: Had you done any acting before this experience?
A: Well, let's put it this way: In elementary school, when my friends would come over for slumber parties at my house, we didn't play Chutes and Ladders and make cookies. We recreated TV shows I loved and put on Broadway musicals in my living room. I have fond memories of raiding my parents' closet for costumes and spending summer vacations typing (by memory) the scripts of movies I had seen. In sixth grade, two of my friends and I actually performed The Sound of Music on stage for our Girl Scout troop and parents.
Q: Have you ever incorporated Breaking Bad into any of your lessons?
A: Just for fun, I try to incorporate lines from the show throughout the day, even though the kids don't suspect. Some of my favorites are "So there's that," "Yeah, science," and "Stay out of my territory." (Haven't quite figured out yet how to sneak in "You brought a meth lab to the airport.") Thanks to Skyler, I find it quite effective after contacting a student's parent to whisper in their ear, "I called your mother." I'm not as menacing, however, and I have such a good class this year that I don't need to play that card very often!
Q: How does your teaching style compare to Walter White's?
A: Walt is enthusiastic about his subject matter, and so am I. It helps to motivate the students if they know the teacher is interested as well. However, I do not keep a cell phone hidden in the ceiling tiles of my classroom, and I have never had a former student throw a beaker at me!
Click here to see Jane Parsons's grand prize-winning entry.
Read More