Uncategorized
Q&A – Giancarlo Esposito (Gus Fring)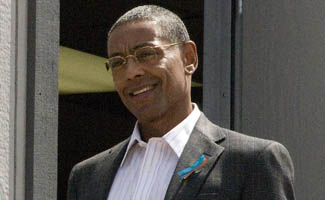 The actor explains how Rosetta Stone helps him prepare for the part and shares the secret source of Gus's confidence in this AMCtv.com interview.
Q: Gus has to speak a lot of Spanish this season, but your heritage is Italian. Was it difficult to learn?
A: You know to read it, I'm fairly decent. When I speak it in a conversation less so because it's a way of thinking. When you're speaking Spanish, you're thinking in a different way. But I was blessed enough to get a coach out there who is really lovely. We got together maybe three or four times to work on specific scenes and get the translations correct. Since then, I've gotten Rosetta Stone [Laughs]. I'm listening to the tapes and really trying to brush up in anticipation that the next season there might be more and I could be even better. But I got a great compliment from The Cousins, who actually are Spanish, so I was happy about that. Those guys don't give out compliments easily.
Q: Everything Gus does, from the way he removes the plastic wrap on the vegetable tray to the way he takes off his sunglasses, is so calculated. Are you as fastidious?
A: I think self observation is important in order to loosen up if you're too tight, or tighten up if you're too loose. I have from time to time been a double A or triple A personality. I'm not anymore. I'm more lenient on myself. It's fun playing with that part of Gus. I truly believe from the initial set up of Gus and Walter's relationship that Walter immediately assumed we were very much alike. But the way he cuts the peanut butter sandwich — I don't think Gus is that far gone.
Q: Have you approached Vince Gilligan about directing an episode?
A: I've been handing my film out. [Laughs] It's called Gospel Hill. It's very different than Breaking Bad. It's slower. So yes, I have approached it and Vince is going to watch — and they know I'm not forcing anything, but I'm really hoping they'll allow me to direct one.
Q: Are you as good as Gus at getting what you want?
A: I think I am. I try to be careful with my persuasiveness. When my heart is really behind it, and when I have no ulterior motive, then I know I'm truly persuasive. My mom said something to me years ago that I'll never forgot, and that I still live by: Every time I go, "Ahhh! I want this to happen. You gotta help me," I hear my mother's voice saying, "You get more with sugar than you do with salt." And I believe it.
Q: There are a lot of things about Gus that most people don't know. Can you share something about yourself that might surprise us?
A: Yoga is a big part of my life now. There's not a day that goes by where I don't do an Asana and mediation practice. To me, that's helped Gus. I'm a real energetic kind of guy. I'm excitable. Gus is the coolest cucumber that ever walked the Earth. I think about Eddie Olmos way back in Miami Vice. He was like dead — he was hardly breathing. I thought, how is this guy just standing in this fire and doing nothing? Gus has totally allowed me that level of flexibility and relaxation — not because he has ultimate power and he knows he can take someone's life. He's just confident. He makes a definitive decision that he sticks by. That's a pretty powerful human being that trusts himself in that way.
Q: We have an online tournament of Breaking Bad-Asses that pits Gus against Walt, Hank, Mike, Saul, etc. Who do you think is Gus's biggest competition?
A: Mike is a scary guy, and if he didn't work for me I might be in trouble. I think probably the greatest threat is Walt. He's a very intelligent guy but because he's so held-in emotionally and he's going through this wicked time in his life. He could be a loose cannon. See, I know what Mike would do. Mike would do it as I would do it. Stealth. Quiet. Clean. Done. Walt is going to screw it up.
Click here to read an interview with the guy that knows the guy that knows Gus: Bob Odenkirk, aka Saul Goodman.
Read More