Press
Breaking Bad's Bad Chemistry App Now Available for iPhone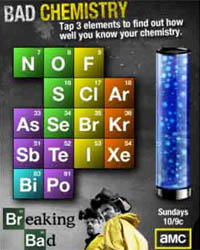 Think you've got the scientific smarts to pass Mr. White's class? One fun way to find out is with the Breaking Bad: Bad Chemistry iPhone App, which has you mixing elements from the periodic table to create explosive reactions! Download the app today to see how many different outcomes you can create.
Click here to download the Breaking Bad: Bad Chemistry App
For more Breaking Bad on the go, download the free AMC iPhone App, which delivers exclusive behind-the-scenes video from Season 3 and sneak peeks as well as interviews, blog posts and other exclusive features.
Click here to download the AMC iPhone App
Read More