Uncategorized
Q&A – Bob Odenkirk (Saul Goodman)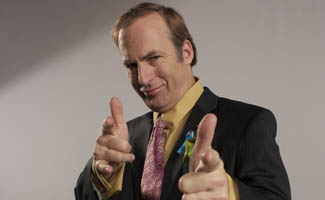 The actor-comedian discusses fashion, his formula for Saul's persona and fighting his fellow Breaking Bad cast members in AMCtv.com's exclusive interview.
Q: How does it feel for your character to have his own website, BetterCallSaul.com?
A: He's going to start generating clients, I tell ya. What are we going to do when I have clients? It's super exciting and more in line with a lot of the fun, comic stuff that I've done in my storied career. It's very cool of Vince Gilligan and Peter Gould, who wrote that site, to let me play like that.
Q: What will you say if people do start asking you for legal advice?
A: Don't ask me! Don't ask me, and don't ask Saul Goodman, if you're smart. I hope they don't ask me for fashion advice either. But I'd just say, "Make sure it clashes. Lots of patterns are good. Patterns on top of patterns are good. And neon is your friend."
Q: What's your favorite article of clothing for Saul?
A: I'm entertained by the giant cuffs, I mean the insane cuffs on his wrists. But I think the socks are the thing. The plaid socks and the neon socks, the bright gold socks. I wish you could always see my socks on the show because they're always great.
Q: In your own life, are you the guy people go to when they need to solve a problem?
A: I do actually consult with a lot of young people who are in comedy. I'm excited by that. But you see, Saul gets s— done. He doesn't just consult with people and give advice. He gets people out of jail. He trades them off one for the other. All these drug dealers and low-lifes are just chess pieces to him, and he's always playing for himself.
Q: Saul's license plate is LWRUP. If you had a vanity plate, what would it be?
A: Can I get LUNYTUN? I think of myself as a father because that's what I do with most of my energy and day. I always look at those "#1 Dad" mugs and think how I'll never be number one. I always feel like, "Oh, I screwed up." I'm like number nine thousand billion.They don't make that mug.
Q: I read that your depiction of Saul was inspired by the legendary movie producer Robert Evans. How so?
A: Saul likes to talk. He likes to go on and on and pontificate and lecture. One of the things I was concerned with is how do I make these monologues and these runs really fun to hear? I thought about Robert Evans because I've listened to The Kid Stays in the Picture on CD. He's constantly switching up his cadence and his delivery. He emphasizes interesting words. He has loads of attitude in almost every line that he says. So when I rehearse the scenes alone I do my impersonation of Robert Evans to find those moments and turns. Then I go out and I do Saul.
Q: Any other people in the mix that help you do Saul?
A: Oh, I gotta always give my dad some credit for my presentation. My dad was a really sarcastic guy who also was cynical, and I think that Saul's a pretty cynical guy… I'm going to give my dad twenty percent, Robert Evans thirty percent and the rest is me and my imagination.
Q: What was it like to shoot the scene in Episode 4 where Walt pulls you over the desk and throws you down?
A: I've done fake sex on screen before, and we did a fake fight and both of those things are a little too much like the real thing. Obviously there was a pad on the floor when I got thrown down, but you're still getting pushed around. The last time I got in an acting fight was with Rip Torn on the Larry Sanders set, where he threw my character up against the wall. It's fun to get into it like that but it makes you respect real fighters, because I was out of breath after that fake fight.
Q: Is there anyone in the show that you wouldn't want to fight, even if it was fake?
A: Oh geez. I'll get into a fake fight with anybody. The key word there is fake. Real fight, I don't think I would want to take on Bryan Cranston. I think Aaron Paul is probably more supple than I am, but that may not work in his favor. Anna Gunn seems pretty powerful. I will take on Krysten Ritter… but only in Jell-o. [Laughs] Classy.
Read More