Uncategorized
Q&A – Anna Gunn (Skyler White)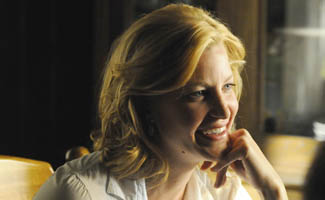 The actress talks about updating Skyler's Season 3 wardrobe, introducing her children to the wilds of New Mexico and (hypothetically) taking down everyone's favorite Breaking Bad meth whore, Wendy.
Q: What's more fun: Playing Skyler while she was trying to figure out what was going on, or playing her now that she knows?
A: I really am enjoying playing her now that she knows, because playing somebody in the dark is tough. Skyler is a really intelligent person and she's set up that way from the beginning. We had to be really careful about balancing that she was a smart individual, but make it believable as to why she would be in the dark. I think the way they came about revealing how she sort of really stumbles onto the truth is pretty fantastic.
Q: Her look changed a lot this season. Was there a reaction when you showed up on set?
A: Yeah, definitely. I remember coming in for the first episode and people were going, "Wow. Look at Skyler." [Laughs] Because she was sort of out of her slumpy gear and into pencil skirts and fitted tops and high heels, and we did tweak the hair and makeup. So, yeah — it was noted for sure.
Q: Did you have any input as to how she would look?
A: I did. I think sometimes of Skyler as having been sort of invisible in her home life. It's what happens. It's the hardest job in the world being a stay at home mom. You don't punch out behind that clock. So I think that for her it was her way of claiming maybe for the first time who she is and stepping forth into a new identity. You can see her putting thought into who she is and what she wants to present to the outside world, and I really liked that we brought that element in.
Q: Is it strange seeing cast members react to life in New Mexico being that you're from there?
A: When people get excited about like, "Ooh, the green chile," I'm like "Yup. Green chile. Grew up with it. Love it." But the nice thing for me actually is my parents still live there and my girls get to come out and be with me. So I get to do things with them that I loved to do when I was growing up in New Mexico: Horseback riding and hiking and walking in the mountains. I got to go to the Balloon Fiesta this year, which I hadn't been to in I can't believe how long. You know my girls are so funny. You're out in the country and there are critters everywhere and they get a little like, "Oh my God! Oh no, bugs!" and I had to say, "Honey this is fine. This is their world and it's all part of being in the country." I realized, "Oh my God, my girls are really city girls."
Q: So the irony that you went out to Hollywood to make it as an actress, and then–
A: And then, I know. It really was great because my friend Sharon Bialy casts the show, and she had cast me in a little indie movie years ago called Santa Fe, so she knew that I was from there. When I went in to meet for the role she said, "Anna, get ready to go back to New Mexico." She just loved being the one to tell me that [Laughs].
Q: We hear you've had some strange animal encounters while there for the show…
A: I got to be friends with a really wonderful woman in a little village outside of Albuquerque. One time one of her donkeys was reaching underneath a gate to get some hay, and he got his head lodged into this teeny tiny opening in the gate and started freaking out. We were all trying to figure out how to calm him down, and finally one person got in the pen with him and I basically put my entire body weight on his head and pushed his head down on the ground. The other person pulled his legs back and got him freed. I felt like quite a pioneer woman.
Q: We have an online tournament of Breaking Bad-Asses in which Skyler is a contender. Who do you think is her toughest competition: Walt? Wendy the Meth Whore?
A: Wendy! [Laughs] I like Wendy 'cause Skyler has nothing to do with her. Actually, I would of course think right now her toughest competition would be Walt.
Read More