Video
Breaking Bad Gets Animated With a Team S.C.I.E.N.C.E Minisode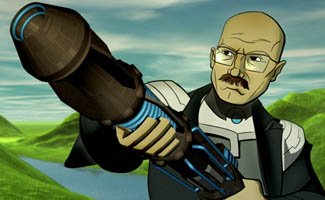 The world is a dangerous place. You never know when a drove of giant robots controlled by paraplegic bell-ringers might attack. So who do you turn to in such times of peril? According to the new Breaking Bad Minisode, to Team S.C.I.E.N.C.E. That's who!
Jesse Pinkman Productions presents an original cartoon by a guy familiar to fans of Breaking Bad. A few of the characters just might look a bit familiar, too: Dr. Chemistry, the brainy crime fighter, bears a striking resemblance to one Walter White while Apology Girl resembles the late Jane Margolis — only hotter!
Along with a few others, together they form Team S.C.I.E.N.C.E. (What does the acronym stand for? You'll have to watch the cartoon to find out!). Watch as they "fight for their right… to be awesome!"

Breaking Bad Season 3 Premieres Sun., Mar. 21 at 10PM | 9C.
UPDATE: International viewers can now watch the Team S.C.I.E.N.C.E. Minisode. Look after the jump to see the video, as well as a full list of credits for the cartoon.
Team S.C.I.E.N.C.E. was Designed & Produced by Wildlife
www.wildlife.la
Directed by Scott Friedman
Written by Mel Friedman & Scott Friedman
Animation
Scott Friedman
Jake Friedman
Art Direction
Jake Friedman
Lead Illustrator / Storyboard Artist
Mikey McCollor
Character Design
Shaun Pendergast
Editor
Mel Friedman
Sound Design
Daniel Waldman
Sound Mixing
Steven J. Kukla
3D Environments
Scott Friedman
Jake Friedman
Additional 3D
Jack Kosoyan
Stuart Allison
Color Script / 2D Backgrounds
Emily Tetri
Assistant Editor
Curtis Thurber
"Team S.C.E.N.C.E" Theme Song
Music by Daniel Waldman, Jake Friedman and Scott Friedman
Lyrics by Mel Friedman Sung by Matt Jones
Read More