Press
How to Win Free Breaking Bad Season 2 DVDs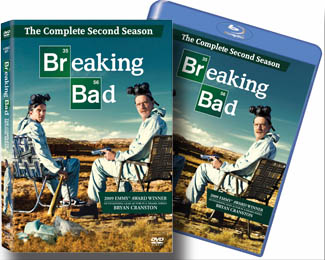 The Breaking Bad Season 3 Premiere is this Sunday so we suggest you pick up the Season 2 DVD set that's on sale now. Your other option would be to take a shot at winning one of the two DVD sets that AMC is giving away for free!
That's right! Here's your chance to own all 13 episodes of Season 2, which The Hollywood Reporter calls "so flat-out superb it appears to be operating at a different level than just about everybody else." The four-disc DVD set (three-disc Blu-Ray set) also comes with deleted scenes, behind-the-scenes featurettes, and exclusive minisodes.
Here's how it works: Share your predictions for Season 3 in the comments section below. On Fri., Mar. 26 we'll randomly select two winners who'll each receive a DVD set.
You can also buy the DVD or Blu-Ray sets now at your local video dealer, via AMC's online store or through Amazon.com.
Look after the jump to see the winners from our last DVD giveaway.
DVD Giveaway Winners
• markmorr
• jarsa
• ScottM
• WallDruggie
Read More