Interviews
Q&A – RJ Mitte (Walter Jr.)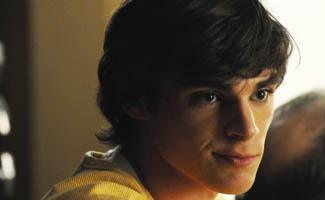 Breaking Bad's youngest regular cast member talks about mouthing off to his parents (both on-screen and off), muses about automotive prospects for Walter Jr. and ponders juggling dorm life with TV acting in AMCtv.com's exclusive interview.
Q: Vince Gilligan says your acting gets better with every episode. Is the show easier now that you've got a couple seasons under your belt?
A: That's great. Especially with him saying it. I don't think anything has gotten easier. I just think its gotten more demanding for more of a performance. Everyone is raising the bar. Why not me? I say you can never use excuses because they always run out. You just have to face it head on. The more challenges it brings, the more it pressures us to do our jobs better and it makes the show better. So I say bring it on.
Q: We read that you were graduating early. What are your post-high school plans?
A: I don't know yet. I want to do some traveling and just kind of hang out, take a little break and then off to college. I want to get my Masters in business. It takes a lot of know-how to work in this business.
Q: Where do you plan to go?
A: I've been looking at several schools but I'd probably have to do one with the best online courses because of working with Breaking Bad and everything, which doesn't really bother me. I can go visit my friends at LSU for the college experience. I spent time with a friend of mine for a couple of days in a dorm. Don't get me wrong. It was nice. But don't count on sleeping when the dude next to you throws a party, or when it gets really loud. I don't think I'd miss it.
Q: Walter Jr. starts mouthing off to Skyler this season. What's the worst thing you ever said to your parents?
A: Let me think. What's the worst thing that I ever said to my parents? Hmmm. "Yes. OK. Sure. Whatever you say. I'll do it."
Q: That's it?
A: It pretty much is. I don't really say too much to my parents. If they ask me to do something I just do it and get it out of the way.
Q: What kind of teenager are you?
A: I'm one in a million. Ah ha.
Q: How did those scenes affect your friendship with Anna Gunn?
A: It didn't affect our friendship at all but it was hard to do. When you spend thirteen hours you really care about the other people and it made me feel bad about it after. I actually said "I'm sorry" after one of the scenes I did. I felt so bad. She's like, "It's OK." Those scenes are just hard to do when you care about the other people. It makes for great TV, but it's hard in the meantime.
Q: We hear you're quite the car guy, and that you have a truck out in Albuquerque.
A: Yeah but sadly somebody broke into my house and stole my truck. They told me it's probably stripped and torched. It happens. Isn't a car stolen every 5 seconds?
Q: What are you going to get to replace it?
A: I'm actually looking at a new Camaro. I'm looking at a couple different things. The reason I got the truck was for kind of a starter car. I didn't want to jump into anything too drastic. Now, since it was stolen, why not?
Q: What kind of car do you think Walter Jr. should drive?
A: Anything that has four wheels and is made out of plastic. Like a toy car. Because of his driving skills lately. Actually, Walter Jr. would be happy with any car he could get. It would be freedom. It's something that everyone goes through. It's his first car!

Q: You had a pretty riotous birthday party on-set last season. Anything like that happen this year?
A: I remember it was a crewmate's birthday and someone leaned over the cake and another person came up and slammed their head in the cake. Full on grabbed and slammed. I laughed my ass off from that. It was really fun. I wish we had video from it.
Q: But you wouldn't do something like that.
A: Oh no. No. For sure. Never ever ever. Why would I? It's not funny at all.
To read last season's interview with RJ Mitte, click here.
Read More