Press
LA Times Is Already Talking Emmys, Cranston Chats With Letterman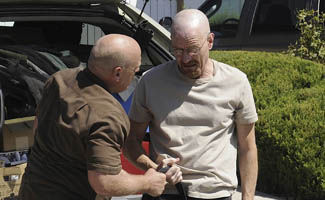 Breaking Bad's Season 3 premiere garnered the show's highest-ever ratings and so much critical praise that the Los Angeles Times is already talking Emmys. Bryan Cranston, meanwhile, appeared on Late Show with David Letterman, while Aaron Paul chatted with The New York Times.
• TV Squad reports that the Season 3 premiere was Breaking Bad's most-watched episode ever, with 3.3. million viewers.
• The Boston Globe compares the premiere to The Wire, while The Plain Dealer calls it "as ferocious as it is funny." The Huffington Post, Time Magazine, ChicagoNow, The Dallas Morning News and The Star Tribune also praise the episode.
• The San Francisco Chronicle, /Film, New York Magazine and the Los Angeles Times all recap the Season 3 premiere.
• In addition to its episode recap, The San Francisco Chronicle awards Breaking Bad the top spot on its weekly Power Rankings list, and singles out Bryan Cranston in a feature about "5 actors breaking good — phenomenally good."
• Already the Los Angeles Times has predictions that Breaking Bad is a lock for an Emmy nomination for best drama series: "Previews and early buzz indicated it will be as good as ever."
• The New York Times interviews Aaron Paul, who says, "I'm just so thankful that Jesse is alive and breathing." New York Magazine and The Toronto Sun also spotlight the young actor, and People Magazine (no link) asks him about the time he was grounded for stealing baseball cards.
• In a Zap2It feature, Vince Gilligan says of Paul, "I think of Johnny Depp in 21 Jump Street when I look at him."
• Bryan Cranston compares Walt to Tiger Woods in a Q&A with Entertainment Weekly and talks to David Letterman about visiting his Uncle Bob at a nudist colony.
• Anna Gunn discusses with Yahoo TV the similarities between Breaking Bad and a Coen Brothers movie: "Extremely dark things can happen," she says, "but also there's a lot of humor and levity."
• The Fader discusses with Dean Norris his character Hank's arc this season: "We do get into his demons and dark side this year," the actor promises.
• The Chicago Sun-Times chats with native son Bob Odenkirk, who says about everyone's favorite criminal lawyer, "He's living always in the moment. He wants to acquire money, and that's his main purpose in life."
• Don't miss Bryan Cranston's guest appearance tonight (Mar. 26) on Late Night With Jimmy Fallon, which airs at 12:35 am ET/PT.
Read More